26.2 and 27
Yeesh. Well, it's been a while. So what have I been up to? Well, I have been putting my life back together in the form of deep cleaning my house, sorting through our basement (which hadn't been touched since we moved), working some extra hours (those were nice paychecks), getting Tony fitted so we can officially ride together next season, and trying desperately to reconnect with the friends and family I have abandoned for the past two years. Oh yeah, and I ran a marathon two days ago.
I know I posted a while ago that after last year, I had resolved not to run a marathon so close to Ironman. When it came time to sign up for the
TCM
this year, though, I just had to. The promise of an extra week of recovery time, my sister signing up for her first, the chance to run 8 in a row, and the race being on my birthday all pushed me to do it, and before I knew it, I had forked over the money last May.
I honestly didn't know what to expect on race day. The marathon was pretty much a C race for me. I had put in the training for IM and knew it would be enough to get me through the marathon. I spent the month in between the two recovering and hoping that the terrible pain I experienced during the marathon last year wouldn't show up if I took it extra easy, so that's exactly what I did. A few short runs and some inline skating was the extent of my workouts between September 9 and October 7. My ultimate goal was to be there with Steph and to run with her all the way to the finish line, but I knew that given the circumstances, it might not be possible.
As most of you probably know,
Steve
spent the weeks leading up to my birthday scheming for one heck of a surprise for race day. He, my brother Matt, Steph's boyfriend Jon, and my brother Mike all dressed up as a farmer and 3 crazy barnyard animals to come cheer us on. I never peeked at his blog, or his car, or his studio, and I about died when I came downstairs Sunday morning to find them in full costume. When we were stuck in traffic on the off ramp trying to get to the start, they were dancing up and down between the stopped cars to the tune of horn honks, people shouting and cheering, and a whole lotta laughs and smiles. It's an image that will be burned in my memory for a long time!
In the 8 years I've done this marathon, there have been all sorts of temperatures and conditions, but this year was a hot one -the hottest day the marathon has ever had. I found out Sunday night that they were 1.5 degrees from cancelling the day altogether. We started in the low to mid 70s with 90% humidity and full sun. We worked our way up to 84 degrees with 60 to 70% humidity. I know that for a lot of people, this really doesn't sound that bad, but people trained for the 50-60 degree average, and with that humidity, you're basically in a pressure cooker. It was just plain miserable.
I stuck with Steph for the first half, but when I started to feel like I was going to lose my Shot Blocks, I told her to go on so I could walk. I knew that If my food didn't start digesting, I'd be in big trouble. Plus, I had been slightly cold with goosebumps all over my body for miles and was a little concerned that the heat was getting to me (lots of people did go down with heat stroke, a few of them with body temps of 108 degrees). So I run-walked the rest of the race. I found Steve and the gang at mile 15, and they were having a blast. I've never been a race where it was so easy to find my support crew, but you don't miss a bright yellow chicken standing next to a pig and a cow with the farmer close by! My theme of the day was "it's my birthday and I'll walk if I want to." I saw my friends Sarah, Trevor, and Maddy a little further into the race, and they all wished me happy birthday. I gave them all very sweaty hugs.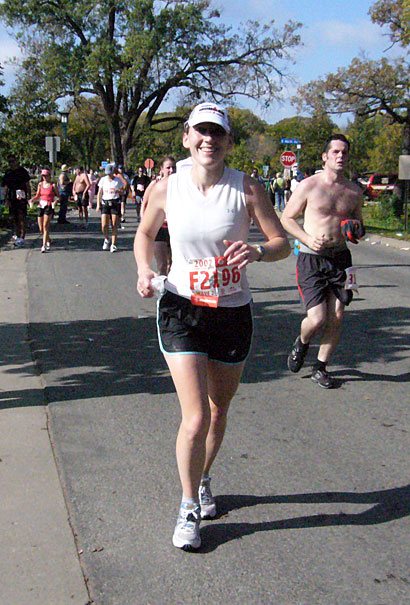 I was dumping water on my back and head, but the soaking wet front was all me.
The rest of the race was pretty uneventful. I did run/walk intervals and took ice whenever I could get it. I was really disappointed that the race never provided any, but TCM is known for its spectators, and they came through with flying colors the second half of the race. I did my usual ice in the hat, sports bra, and mouth and was so much more comfortable. It wasn't long before I saw my farm animal support crew along with my parents, my grandpa, and my friends Jess, Tony, and Rachel just before mile 26. I asked them how Steph did, and they told me that she finished really strong (total time 4:41 - over her goal of 4:30, but everyone was over their goal times given the heat). I started to get really choked up. I am so proud of her. I saw her on the way down to the finish line and got choked up again. I crossed the finish line in 5:27, my second slowest marathon ever by far (I did beat last year's pneumonia race time).
I met up with the farm animals and Steph and we stopped for a few pictures.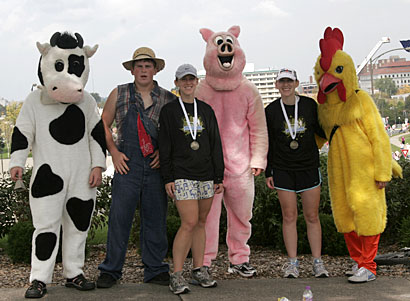 Matt the Cow, Mike the Farmer, Steph, Jon the Pig, Me, and Steve the Rooster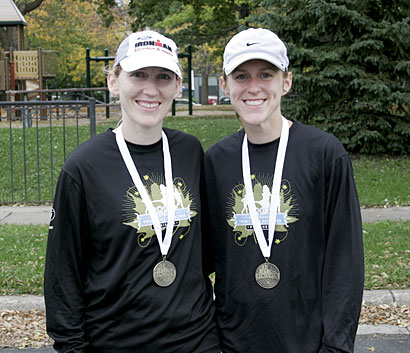 Can you tell we're sisters?
We went home and cooked a big meal for our cheerers. We finished it off with the perfect birthday marathon food - birthday cake!
Steph (Nov 15th), Mike (Oct 12), and Me (Oct 7)
What I learned from the weekend:
1. I am not an
IronJenny
. My race times really suffer when my body doesn't have enough time to recover. I'm still not sure whether it's mindset or body recovery time, but I do know that I'm sorer now than I was the Tuesday after Ironman.
2. I am an ice person. When the temps start to creep up, I need ice during races.
3. Never underestimate Steve's creativity. The costumes totally made my day. I love you honey!