Um, hi. Is this thing on?
So I've been MIA lately, as in VERY MIA. Typing up a big update blog post has been on my to do list for over a month, but it quickly falls to the bottom of my list when I start to prioritize. I promise to write a more robust update soon, but here's the long and short of it:
* I love being a mom. Henry is such a ham, but he is still a very high maintenance baby.
* He also hates food and has decided that at 7 1/2 months, he'd still rather just subsist on boob juice. I'm not worried yet. The dude still has some major adorable chubs.
* I'm still gluten/dairy/soy free. Sometimes I can cheat and sneak in a little cheese, but Henry's tummy will definitely let us know if I go overboard. Occasionally it wears on me, mostly I'm fine with it. I've been craving a giant piece of chocolate cake for over 4 months. Gluten free food is okay, but it's rarely good, and it's definitely not the same. I am so fortunate that this is a temporary thing.
* Breastfeeding is still going really well. Everyone told me it would take time to finally click, and honestly, it didn't start to feel effortless until he was 5 months old.
* Fitting in workouts has been hella hard. I let myself take a break after the marathon and cut back to just a few days a week. Now that I want to start working on my base again, I'm having a hard time figuring out where that time will come from.
* Despite eating my weight in sugar and chocolate (which,thank God, does not upset Henry's tummy) and working out less than I have in the past, the pregnancy weight was gone at the 6 month mark - poof! The 42 pounds fell off without any effort. I've been able to fit into my normal clothes for a long time and have been in my extra skinny clothes for a few weeks. I'm not sure if it's muscle atrophy from not working out or actual sustainable weight loss, but it has been nice that this is not a source of stress for me. I still have some stubborn love handles to work on, though.
Alright, back to the title of this post... my 10K race report.
I did my first stand alone 10K EVER last year on Jan 1 when I was 17 weeks pregnant. I did this race a few weeks later at 21 or 22 weeks in 1:09:26 - my official 10K PR. Like I said above, training has been SEVERELY lacking lately. I had initially hoped to be able to do the half, but halfway through December, I realized that I'm not in that kind of shape right now. I was just hoping that this year I'd at least be faster than last year. I thought there would be a good chance that I could finish sub-60, and sub 55 sounded like a good round number to make my "ideal" goal, though I have no real reason why that would be attainable right now. My long runs pushing the stroller have generally been at 10+ minute miles, and my "all out" 600 M intervals at the metrodome have been at a sub 7:30 pace. Beyond that, I have no idea what my pace is these days. My plan was just to go out at a comfortably fast pace and play it by ear.
My sister Steph said she'd take Henry for a few hours, so Steve and I dropped him off at her house before driving to the race start. It was a 9:00 start, and we were there by 8:20 - plenty of time. I think I was downright giddy that Steve and I were on a "date," even though we would be running separate races at very different speeds.
Steve and me shortly just after getting to the race site
Steve's half started at 9, and my 10K went out at 9:05.
I took off at a pace that I thought was sustainably comfortably fast. I heard someone say around 3/4 through the first mile that we were doing 8:26. I was a little leary given the inaccuracy of Garmin's instant pace data, and when I hit the 1 mile mark, it was a 9:15. Not bad. Right where I'd hoped I would be. We weaved all around downtown St. Paul and saw the ice sculptures in Rice Park. They also shot off a couple of fireworks while we were circling the park. Fun! I missed Mile 2, and I was hoping that I was keeping on pace. I was starting to catch up to the back of the half marathoner pack, and I made it my goal to pick off as many packs as I could before my turn around. I hit miles 2&3 in 18:29. Those are some consistent splits! Soon after, we separated from the half marathoners, and I had to start picking off people in my own race. I was feeling pretty good and thought that I may be able to pick up the pace. I chose a lady in a blue jacket to chase down. I caught her and chose my next target. I hit mile 4 in 8:58. I was passing a lot of people, but then I hit a quiet point in the race, but I tried to continue picking up the pace. Mile 5's split was 8:45. Awesome. I was chasing a guy in orange, but it took me forever to catch him. I finally passed him on a hill.
Come on, you can do this, it's just like sprinting up the hill at home.
Around 5:45 into my last 1.2 miles, I told myself it was time to leave it all out there.
It's just like an interval at the Dome. Pick it up...
The last part of that race has us weaving back through downtown, and I can never remember which turn will be our last, but I was still passing people left and right. I passed some 5K walkers and more runners in my race. One woman did pass me back with about 100 M to go, and despite a decent kick on my part, I couldn't get her. My last 1.2: 10:22. Official time: 55:50 - exactly 9 min/mile. Given my recent lack of training and my shortage of confidence going into this race, I was pretty happy with that.
I stayed out on the course for another 25 minutes or so before heading inside for a little warmth. My plan was to be back out in time to see Steve finish, but I heard them call his name right as I hit the doors to go back outside. He had set a winter half marathon PR and had a blast dueling it out with some friends!
We shared uninterrupted race stories as we made drove back to my sister's house. Henry was fast asleep there (after a little bit of fighting it per Auntie's report). He had fun with his aunt and uncle, though!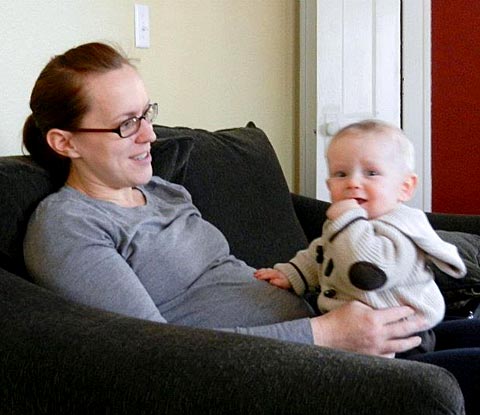 Trying to feel the baby kick!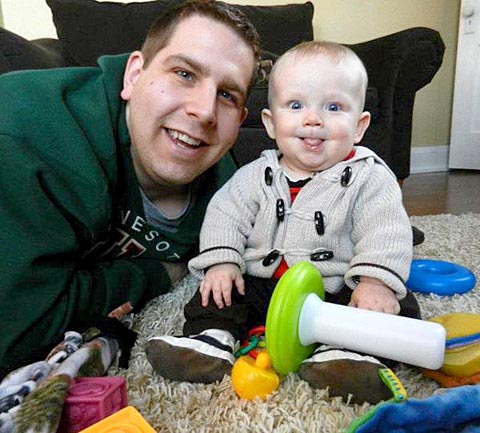 Hamming it up with uncle Jon
Henry fell asleep on the drive home, and he even gave us a few extra minutes to eat lunch...
I warmed up by the fire. The cats warmed up by me.
It's a little late for me, but I still haven't finalized my 2012 race calender. Hopefully that'll come soon!