I posted a report on my mostly disastrous bike time trial
here
. I was more prepared for this one. I arrived in Baker Park just up the road from the TT start with plenty of time to spare. I did an easy 20 minute warmup and got in line for the start in time to see my brother Matt take off a few minutes in front of me.
I actually looked the part this time - people at this time trial show up with some serious bike porn. Although I won't have my new Specialized bike for a while, I have been sporting my sweet Zipp 606s and Power Tap. I was hoping that the combination of new wheels, a little experience, recent training, and less wind would enable me to finally see that 20 mph average I've been shooting for. They held us at the start so we could be clipped in from the get-go. My only mistake for the race was being in too high of a gear when they counted down for me.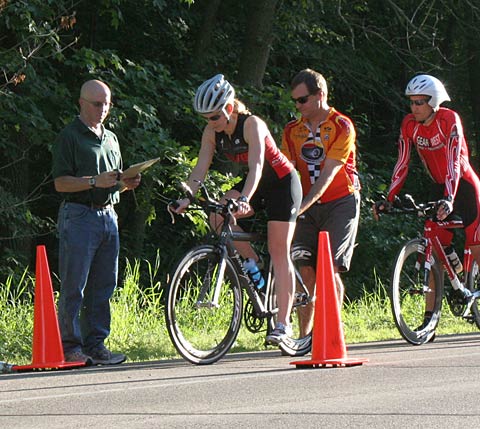 Getting clipped in during the countdown
It took me a second to get rolling, and for a moment, I was worried that I'd tip right over. I didn't, though, and I was off!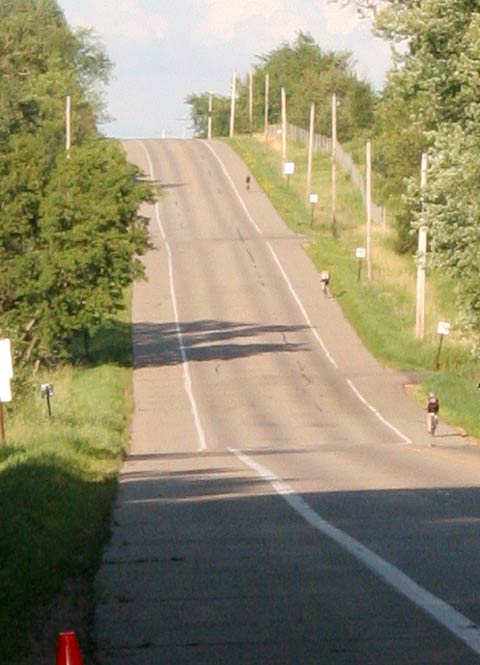 I took the first hill cautiously and spun up it
I worked on keeping my cadence high and not blowing up right away. I spent the remaining 11 miles pushing as hard as I could. I'm not sure if I am capable of redlining in an event (my muscle fibers just aren't made for it), but I was certainly close. The slight headwind on the way back wasn't as strong as I thought it could be, and I think I actually negative split it. Coming up that last big hill, I knew I would be close on time. To average 20 mph for an 11 mile course I was looking for 33 minutes. I hit the finish line in 32:35. I did it! I finally broke 20 mph! My official average was 20.36 (the course is just over 11 miles).
Pushing it to the finish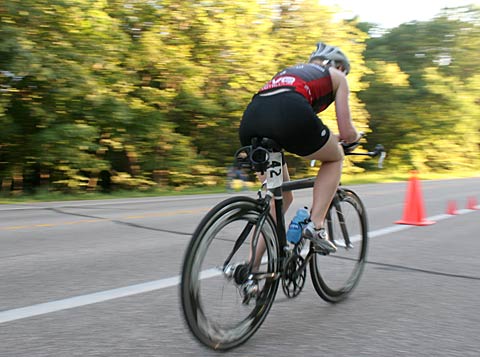 Crossing the finish line
Afterward, Steve, Matt, and I celebrated our efforts by taking a quick dip in Lake Independence. The water has been so warm around here this summer. It felt great!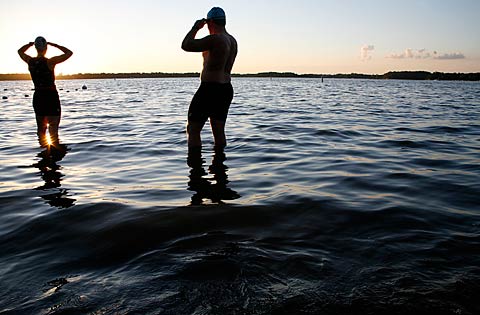 Cooling off a little after Matt and I had great rides