Grandma's Marathon Race Report
First of all, let me just say how excited I was to be able to do this race this year. Minnesota has several marathons, but Twin Cities and Grandma's are the two big ones. They regularly are ranked among the top pics for great marathons to run, mostly for the scenery, the spectators, and the race support. Since my family goes camping every year on Father's Day weekend, It's usually out, but once every 5 years, Grandma's takes place on the weekend after Father's Day. The last time this happened, it was just a couple of weeks before my wedding, and I opted against it. This year, though, I didn't want to miss my chance.
The week preceeding the race was pretty busy. We got back from camping on Sunday and put everything away. I started packing again on Monday, and by Wednesday, I had it all ready to go. Thursday Steve's parents were up, so I knew I wouldn't get anything done, and Friday we were going to leave as soon as I was done with work. I got up at 4 on Friday morning so I could be to work by 5 and (hopefully) finished working all of my patients up by 2. I had requested the day off, but we've been short staffed, so wrapping up early was my only option. Luckily, everything went as planned, and Steph,
Borsch
, and Steve picked me up around 1:50. You may have seen
me napping
in the car over on
Steve's
blog. Now you know why. I'd already put in 9 hours of work!
I had been a little nervous about the drive up to Duluth since we were on such a tight schedule, but thankfully, everything went swimmingly. We managed to avoid rush our leaving the Twin Cities, cabin traffic wasn't terrible yet, and the drive into Duluth would have been a breeze had it not been for an accident in the middle lane of the freeway that slowed us up briefly. As we got close to town, we realized that we'd even have time to check into our dorm before heading over to Justin and Kelly's house for supper. That's where we met up with Jess, Maddy, and Luke, some of our friends from undergrad. They were all running on Saturday too, so we gorged ourselves on pasta, garlic bread, and salad. It was a ton of fun to catch up with everybody, and we snapped this picture before we left: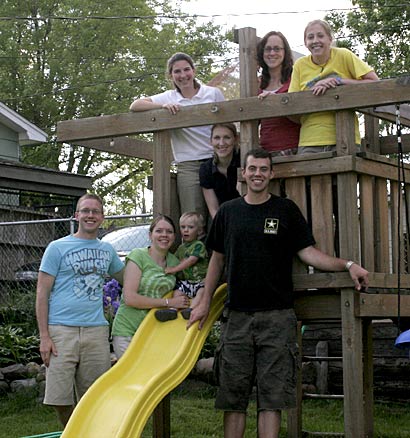 From left to right: Steve, Kelly, her son Asa, Jess, me, Luke, Steph, and Maddy. You can't see it in the picture, but Kelly is 20 weeks pregnant, and she ran the half like a champ on Saturday, proving that it
is
in fact possible to combine exercising with having kids. You're my hero Kelly!
After supper, we drove to the expo to pick up our race packets - pretty uneventful, and since the clock was ticking, we didn't stick around long. Back at the dorms, we gathered all of our stuff for the race, and it was lights out by 10:30.
We set as many electronic alarm clocks as we could find, but one turned out to be enough - 4:45 wake up race morning! We donned our clothes, ate our oatmeal, and made our way to the bus.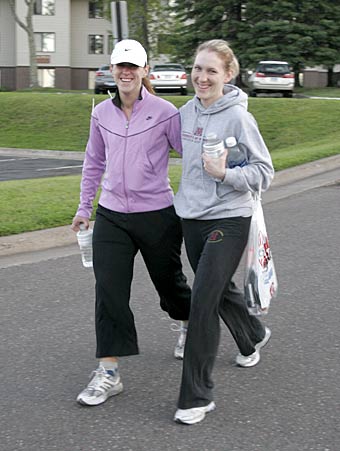 Steph and me walking to the pick up spot.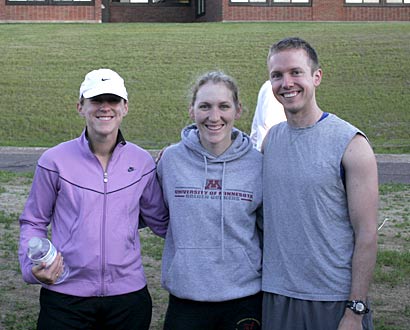 Steve, Steph, and I waiting to board the bus.
Since it's a point to point marathon, the runners have to be bussed to the start line, so at T-2 hours, we were lined up like school children and boarding the yellow buses.
I fell asleep during the bus ride. It's a curse and a blessing not to be able to stay awake in a moving vehicle.
Once we got to the starting line, we pottied, stretched, looked for Maddy, Jess, and Luke (we never found them), and waited for Borsch to arrive on his bike. We snapped a few photos: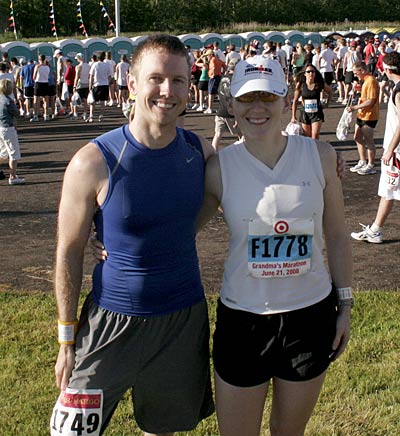 Steve and me ready to run
Steve went to find his place in line, and Steph and I decided that we needed emergency potty breaks. We were cutting it close by the time we got out of the port a potty line, so we had to cross a small ravine and jump the fence to get into the starting chute. We made it with a couple of minutes to spare! We were lined up between the 4:15 and the 4:30 pacers, and even though I was hoping to finish in 4:00, I knew I'd catch up to them soon enough.
I never heard the gun go off, but it wasn't long until the crowd started moving, and soon we were running! I said goodbye and good luck to Steph, and we parted to run our own races. I was a little sad to leave her since we'd done so many of our training runs together, and I wondered as I have in several of my marathons if going for time instead of going for fun and supporting others would really be worth it.
The first mile went perfectly. I wasn't pushing too fast, I felt comfortable, and I was making a conscious effort to take it easy. I hit my watch to split at mile one. I looked down and saw 9:00 flat. Crap. Ten seconds too fast. I knew I needed to back off just a little, and that's when it hit. I developed a nasty side stitch in my lower right quadrant. I tried belly breathing. Still there. I dug into it a little with my hand. No luck. I was nearly doubled over in pain and was having trouble breathing, so I stopped to walk for a second. I'd barely gone a mile. I took a couple of breaths, but nothing was working. Tried running again, and the stitch was back angrier than ever. I walked a total of 3 times before I even hit mile 2. I was starting to panic. I had already thrown my time goal out the window, and I was wondering how in the world I was going to finish the next 24.2 miles. It was going to be a very bad day. "Sarah!" I heard from behind me. I turned to see Steph and breathed a small sigh of relief. I told her what was happening, still panicked. She was going down the checklist of things to try, but I'd already done all of them. Just being next to my sister made me feel a little better, though, and soon the doubled over pain I was experiencing turned into a manageable pain that I could (sort of) run through. At mile 3, we stopped for water. Somehow we lost each other again. I looked for her for the next half mile, but I couldn't tell whether she was in front of me or behind me. The panic was subsiding, and determination to just finish the race was starting to set in. I honestly don't remember much of the race. The side cramps would migrate from side to side to the middle and back around again. I was totally miserable, and my usual joking, thanking and high-fiving the spectators, and striking up conversations with other runners didn't happen. The only volunteers I could muster up thanking were the ones handing me water and ice, which I desperately needed. At 75 degrees and full cloudless sun, the day was proving to be about 30 degrees warmer than my "ideal" marathon temperature.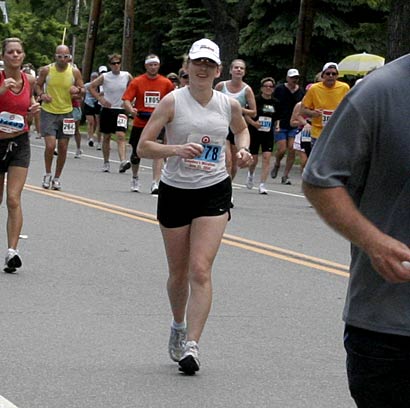 Running with only a few miles left to go.
I saw Borsch a couple of times on the course. He turned out to be a great Sherpa, and I should have taken advantage of him more. I had sent him with some Rice Krispies Treats, just in case, and I really should have eaten them. I don't think shot bloks do it for me any more. I managed to consume 15 enduralytes over the run, but I could only choke down 8 bloks. I forced down 2 gels at mile 17, but I just couldn't eat any more bloks.
The course was really pretty - very scenic with trees on either side of the road, the occasional view of the lake, and the blue sky as the back drop. On any other day, I would have really enjoyed it. I can't say enough about the volunteers and the course support. There were ice and sponges at every water stop, and I took full advantage of them. I put one cup of ice under my hat and one cup full down my sports bra. It was the only way I could keep remotely cool.
Ironically, I started feeling better around mile 21 or so. Maybe it was the fact that there were more spectators. Maybe it was the fact that the sky had started to cloud over a little . Maybe I was just glad to be nearing the end. A little mental math revealed that I could at
least
break 5 if I stayed strong and didn't walk too much. Mentally, I still felt great. My legs were holding up just fine, better than any marathon I remember running in recent years. I was mostly able to keep the walking to every two miles during and for a few minutes after the water stops. I think I only had to stop early twice to alleviate the cramps.
I saw Borsch again at around mile 20. "Did Steve finish?" I asked. He just gave me a weird awkward smile and told me to keep running. I knew that meant that he either did really well or something had gone awry. I found out at the finish line that it was the latter.
I wasn't moving at warp speed, but I did pick it up for the last couple of miles and told myself that I could breathe when I'd crossed the finish line, cause obviously the cramps weren't going away. At mile 25, it started to sprinkle, and I wondered where that had been the whole hot day.
Finish time: 4:52:05, my 3rd slowest stand alone marathon, only faster than the day I had pneumonia and the day that the sun tried to melt the Twin Cities and Chicago (last year).
I found Steve at the finish, and he told me the bad news - he'd gotten really sick on the course and DNF'd. Maddy came in a few minutes after me, so we sat and waited for Steph and Jess. Mads showed me her nasty blisters. She somehow got them underneath the creases between her toes and feet, so she headed off to the medical tent for some popping. Luke had already been there to have his blood blister of a toe lanced. At least it was only one this time instead of all 10!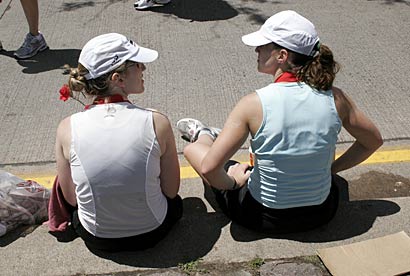 Steph told me how her race was going really well until about mile 21 when her entire leg locked up. Yikes!
My soaking wet body and clothes soon turned into my freezing cold body and clothes. The sun disappeared, and a short downpour ensued, so I needed my sweats and a blanket before we could snap this photo: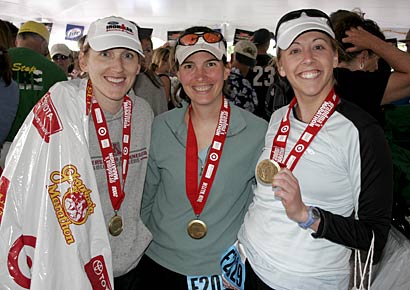 Hague House ladies sporting our medals!
The original plan was to take an ice bath in Lake Superior, but the teeth chattering pre lake dip convinced me otherwise.
We bussed back to the dorms, showered, and took wonderful naps before supper.
Getting ready before eating some of the most delicious fish I have ever tasted, I got a closer look at all of my burns. Turns out body glide wears off when you're soaked for 5 hours.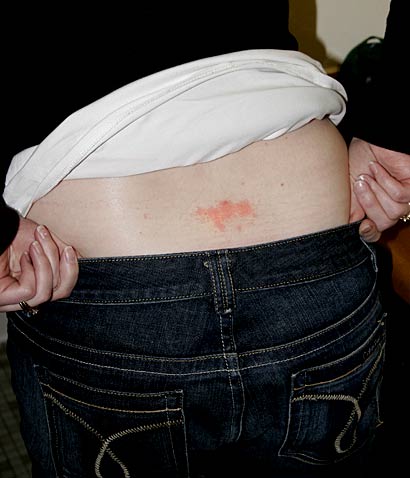 I like to call this one my "tramp stamp" burn.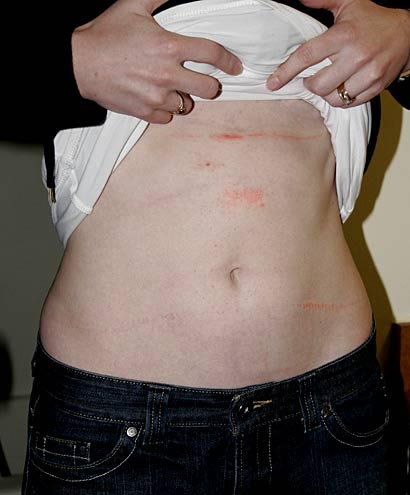 In this one, you can see my bra burn, a burn on either side from the waist band of my shorts, and an extra special one on the middle of my abdomen from my creased number rubbing against my wet shirt. Yeah. Those all felt great in the shower.


Supper Saturday night was amazing. Hanging out with my friends again Saturday night was tons of fun, and brunch Sunday morning was inexplicably tasty. More naps ensued on the car ride back, and the weekend was over - marathon number 9 in the bag.

Thanks again to Borsch for being a great sherpa! Thanks Justin and Kelly for letting us raid your kitchen! Thanks to Steph, Maddy, Jess, and Luke for joining along! And thanks to all of the well wishers who have sent kind messages to Steve. It just wasn't his day, but I'm proud of him all the same.