I decided to do this race just a week before the July 4 race day. Steve and I had been keeping our options open for the day, and since I had to work on the 3rd, we knew we wouldn't be leaving town. When Steve's parents decided to come up for the afternoon, I figured I could squeeze in a morning race.
Borsch
, my new brother-in-law, was signed up so I did too. I tried to convince my brother Matt to join us, but he didn't want to "ruin" his weekend by abstaining from alcohol and fun, so he passed on this one :)
I came into the race expecting to PR. My old PR for a half marathon is 1:56. I ran a 2:02 earlier this year on a gravel path half marathon, and I ran a 2:05 at the end of my last half iron distance race. Matt and I have been putting in some really solid long-distance tempo runs (8-9 miles) at an 8:20-8:40 pace. I have done plenty of long runs (12+ miles) this year. I figured that running 8:45s in a race (1:54:42 over 13.1 miles) would be realistic. My official goal was a 1:55.
Borsch
and I walking to the race start
This was the inaugural race. The race was put on by the company that does the
Medtronic
Twin Cities Marathon and the TC 10 mile. I first learned about it at the marathon expo last fall. I remember thinking that it would be fun but that the 4
th
of July would mean it would be hot, too. Fast forward 9 months where I had been watching the weather all week. The forecast was predicting a hot race morning with a 30% chance of rain. I was hoping it would hold off until we were finished, and I was hoping that the 6:30 AM start would help keep away the heat.
Borsch
and I just before the start
Steve, my funny husband and awesome
sherpa
!
Steve came along to
sherpa
, and since
Borsch
and I already had our race packets, we got to the start line with just over a half hour to spare. We immediately got in line for the
porta
potties, and that's where we stayed until the gun went off.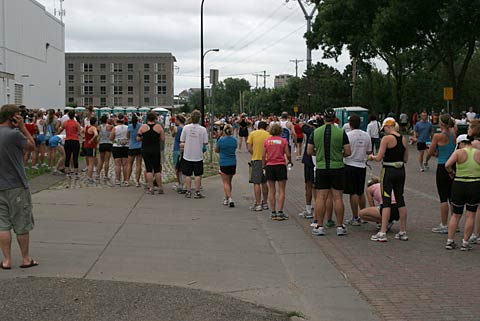 The never-ending potty line
They really could have used more
porta
potties. I've never had to wait in line so long at a race! Thankfully, there were 3000 other runners who needed to get across the start line, and by the time I got out of my potty,
Borsch
and I just had to jog to the herd and had a few seconds to spare before starting the race. Unfortunately, that meant that I missed my pace group. I wasn't too worried. I knew I would catch up to them eventually.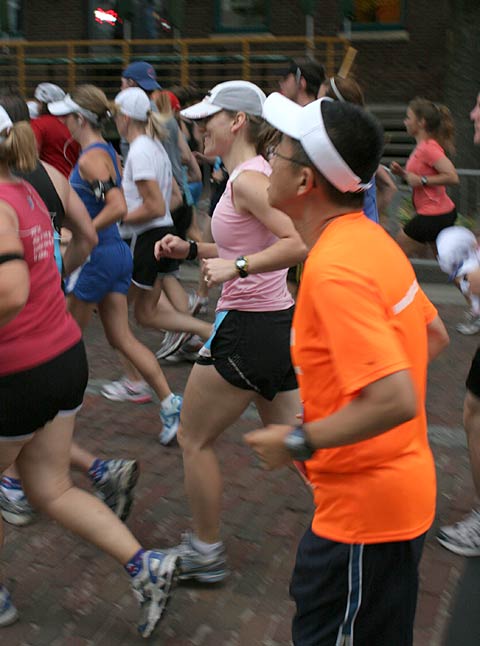 Running to the start of the race.
Right off the bat, I had a lot of people to dodge. I was trying to take it a little easy and not waste a ton of energy getting around people. Mile 1: 9:20 - a little slow, hoping to pick it up.
I had been praying all week that the rain would hold off until after the race, but 30 seconds into it, I started praying for rain, even a downpour. It was 78 degrees with 80 percent humidity when the gun went off at 6:30. At mile 2, it started to rain, and I was so grateful. I hit the 2
nd
mile marker in 9:03 - better, but I was still hoping to pick it up.
I saw Steve at about mile 2.5.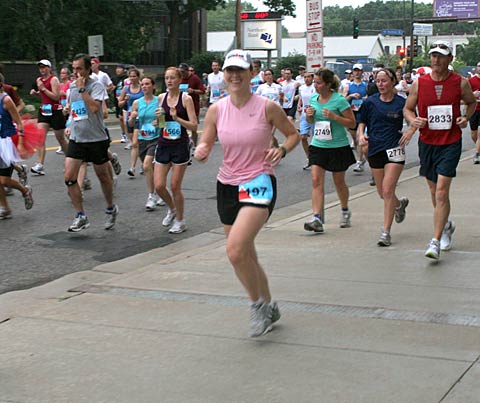 Feeling good at mile 2.5
He wished me luck, and just after I left him, disaster struck. I got a paralyzing side cramp - one of those nasty ones where nothing you do alleviates it. I tried flexing my abs. I tried relaxing my abs...no luck. The only thing I could do was stop and try to work it out. I knew my hopes of a PR were over. It took me several miles to get rid of it. After the cramp finally let up, I spent the rest of the race cautiously trying to push it while keeping the cramp away.
Mile 3: 9:49
Mile 4: 10:36
Mile 5: 10:01
Mile 6: 10:52 - huge hill in this section
Mile 7: 9:29 - another big hill, but I was finally starting to feel better.
Mile 8: 9:48
Mile 9: 9:02
Mile 10: 9:19
Really soggy at mile 11. I smiled for the photo op, but I wasn't too happy about my time...
At least I wasn't alone! We all looked soggy. The rain felt GREAT in the heat.
Mile 11: 9:59
Mile 12: 9:00
Mile 13: 8:57 - trying to push it in
Mile 0.1: 0:49
Total time: 2:06:06
My legs felt fine and never really got sore, but my abs totally revolted. It rained and even
downpoured
for the last 11 miles of the race. Every time it started to let up a little, I was afraid it would stop. It was hot even with the rain. We all agreed afterward that we would have died out there without the relief from the sky.
I knew I should have worn my
tri
shorts! I did get a little nasty chafing from the shorts. Where did that mammoth quad come from?
Crossing the finish line
I hit the finish line feeling a little defeated, a little disappointed, and REALLY toasty. I saw a couple of finishers with
popsicles
, and I was immediately on a mission to find one.
Kemps
had a station and was giving out bomb pops, and I nearly kissed the volunteer who handed me one. Yummy!
Steve and I cheered on the runners coming into the finish line and waited for
Borsch
to come by. He came in a little overheated, a little slower than he had hoped, and smiling.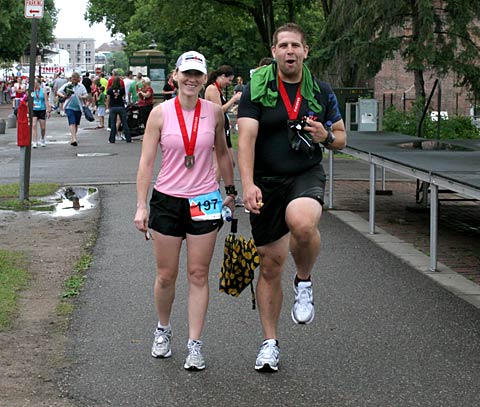 Walking back to the car -
Borsch
was trying to stretch out a cramp!
The three of us hopped back in the car so Steve and I could get showered before his parents treated us to a SUPER tasty all-you-can eat brunch buffet at
Dixies
on Grand.
Final Thoughts:
* Even though I was a little disappointed with my time, I do realize that achieving a PR in that heat was probably unrealistic. Most people I talked to were 5-10 minutes slower than their goal time. Still, it's a little sad that my time was a minute slower than my time at Liberty, where my 13.1 miles was at the end of a half iron distance race.
* Average finishing time was 2:12:10 - I was better than average!
*Other stats: 1041/2376 overall 424/1324 females
* The race was fairly well run, especially since this was the
inaugural
event. The course was really pretty - an area of Minneapolis that I've never really seen before. It was mostly flat except for the two huge hills at miles 6 and 7. My only complaint was the lack of sufficient potties at the start. Would I do it again? I think I would. I'd just leave the PR hopes at home given the almost guaranteed heat in MN this time of year.