St. Paul Winter Carnival Half Marathon Sherpa Report and "Winter" Running in Minnesota
Saturday was the St. Paul Winter Carnival Half Marathon. A month or so ago, I had planned on running it, but my longest run in the past month has only been 8 miles. I knew I wouldn't have a problem finishing, but I've done plenty of runs lately because I can, not because I'm ready. Plus, I was really excited to e Steve break 1:30 - his "crazy goal time." He wasn't sure he could do it. I knew better :) We got there about an hour early, and while Steve stretched, I snapped photos and looked for other bloggers. We saw Jeremy pretty early on, and IronGirlNyhus spotted me near the start line. IronMomJenny wasn't far behind her. We stopped for a quick photo before the start with one of their friends. I feel terrible that I can't remember her name!.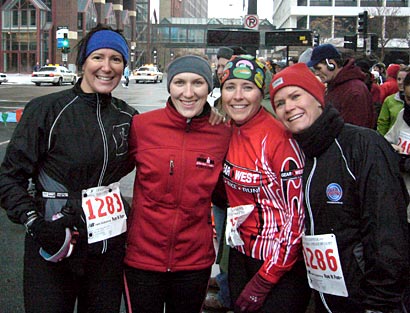 After the gun went off, I started out for my own run. I had hoped to go 8 or 9 miles, but some quick mental math and I realized that I may not make it back to see Steve finish, so I backed it off and only went 7.5. My legs were a little hashed from a couple of hill workouts in spinning class Wednesday and Friday anyway. I wanted to make sure I was at the finish line with plenty of time to spare just in case Steve way exceeded his goal, so I got there 10 minutes early. He was right on time, though, and he finished 1:29:13. I knew he could do it! I'm so happy that someone in our house is fast! We waited around for a while, and it wasn't long before Jeremy crossed the finish line. IronGirlNyhus came in a little while later, but I didn't get to see Jenny finish. By then most of my body was frozen, and I needed to warm up. Sorry Jenny!
Today it was 40 degrees! I managed to only work an 8 hour day and made it home with daylight to spare. I donned my hawt new running skirt and was soon out the door for a tempo run. At the turn around, I was overheating a little, and by the time I got home, I was in short sleeves too. I got a couple of crazy looks, but it did make my splits faster. I negative split my return by about a minute. Tomorrow we're back to normal January. It's supposed to cool off 40 degrees in the next 24 hours and be below 0 by tomorrow at this time.