I Have No Bike Legs
When I was growing up, a hobby of my family was to participate in kid's pedal tractor pulls. It's basically where they slap a bunch of weight behind pedal tractors of various sizes to
accommodate
different age groups. The weight moves up the ramp, so it gets progressively heavier. Whichever kid in that age group pulls it the farthest wins. They gave out trophies for the top three finishers in each age group. I never won a
stinkin
' trophy. The closest I ever came was 4
th
, and that was usually if there were 4 or 5 participants. My 4 other siblings all won trophies at nearly every event. They all qualified for the state match.
Steph
and Matt even made it to the national and international meets. It was a pretty big deal. But me? I had to settle for the free can of Dr. Pepper for participating. Every. Single. Time. I am reminded of that today. I don't think I'm genetically programmed to have pedaling strength.
My half
Ironman
race at
Chisago
this weekend actually went pretty well. I went into it just hoping to finish around last year's time. I was
secretly
hoping for at least a little PR, but like I've said, this year's training has not been the same volume as last year. Well, I did PR - by nearly 15 minutes. I have been feeling pretty good about it until today when the official race results came in. My Place? 63 out of 68 women (74 if you count
DNFs
). I am darn slow in triathlon. Now I've never been fast, but in running races I can usually finish somewhere in the middle. Don't get me wrong. I've never gone out to win a race and found out a long time ago that I cannot compare myself to anyone but myself. Holy cow, though. I had the second slowest bike split of all the women, even though I cut 6 minutes off last year's bike time. So... Here's the lowdown:
Before The Race:
I looked in all of the local bike and run retailers for a suitable
tri
outfit since I have never owned one. In the past I have either done the whole
tri
in my swimsuit or changed in transition. After sifting through limited selection in St. Paul, I made the trek out to Gear West, where of course they had plenty of clothes to chose from. I found a great pair of shorts that did not make my legs look like sausages and a top that actually covered my belly button while giving me the extra support I need for the girls. Bonus: I thought I actually looked pretty good in it.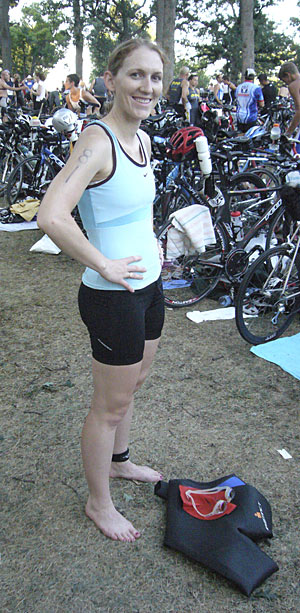 Steve
and I got up the morning of the race bright and early at about 0400. He went to work putting our bikes on the car while I filled up the water bottles and lined up anything we hadn't packed the night before. We enjoyed early morning booty music and good conversation during the car ride, and before we knew it, we were in
Chisago
City. We checked in, set up transition, and joined the masses waiting for the swim start.
The Swim:
Last year, the water was so choppy that I couldn't see they
buoys
. We swam in a gigantic triangle and I must have swallowed a gallon of water. This year, there were no white caps on the water. I was actually pretty smooth. It was an out and back, which I had never done before in a
tri
, but it's my new favorite as far as swim courses go. Total swim time: 47:50. Still lots of room for improvement here, but I'm fairly happy with it.
T1:
I threw on my stuff, including an extra pair of bike shorts and my top, and I was off: 3:33.7 later.
The Bike:
I got passed by quite literally everybody on the bike, especially since I started in wave 2 of 6. I ate more than I ever have on the bike, but I was still hungry. I managed to consume 3 packages of Cliff Shot
Bloks
, 1 pack of fig newtons, my entire water bottle containing 7 scoops of
Carbo
Pro and 2 scoops of Gatorade, 3 bottles of water, and some
Enduralytes
. I have never eaten that much on the bike before, but like I said I was hungry. I have said before that this course is fairly comparable to
IMMOO
, although it is a little easier. It's never really flat and has a couple of pretty descent hills. Parts of the road were TERRIBLE. I remembered them from last year - the road is so rough that you can never really get into a
rhythm
because you're always bracing yourself. Overall I had a really good bike. I kept a good cadence and was singing to myself for the last mile (the Gambler by Kenny Rogers if you must know). I'm sure I could have gone faster. I just don't know how much faster before totally hashing my legs.
T2:
Off came the bike shorts, on went the running shoes, and I was out: 1:22.1.
The Run:
I started the run feeling a little
crampy
in my abdomen, and that feeling took a while to go away. It may very well have been all the food I ate on the bike, but I never felt nauseated, just like I had to back off a tad. I knew I was on track to PR over last year's time, so I tried to keep it in gear. I saw
Rural Girl
for the first time of the day when she had just a couple of miles left. She looked great! I found Steve on his way in a few more miles down the road. He looked spectacular too. He said that his knee was a little sore, but I knew he was going to make it well under 6, the time he expected to come in. We exchanged a smooch and didn't see each other again till the finish line. Turns out I missed seeing
Iron Jenny
and a few other
bloggers
out there too. I did stop for 3 minutes to walk halfway through the run to get rid of a little stomach sloshing. I also walked through the water stops. There was ice at nearly stop, and boy did I take advantage of it! I had it everywhere - under my hat, in my sports bra, eating it. It was heavenly! I finished fairly strong. Total run time: 2:18.39, 5 minutes slower than my half
mary
earlier
this season.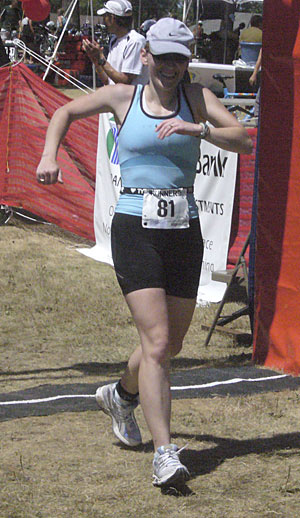 Comparison To Last Year (my only other HIM):
Chisago
Lakes 2006:
Swim: 50:18
T1: 3:53
Bike: 3:41
T2: 2:25
Run: 2:23
Total: 7:01.59
Chisago
Lakes 2007:
Swim: 47:50
PR
T1: 3:33
PR

Bike: 3:35
PR

T2: 1:22
PR

Run: 2:18
PR

Total: 6:47.10
PR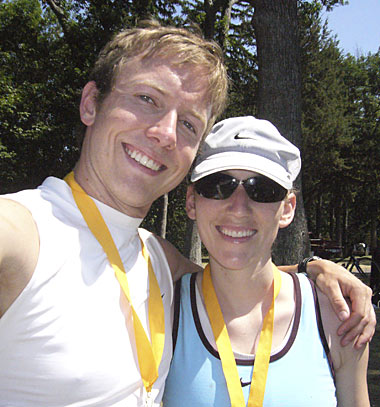 Steve and me after the finish sporting our medals.
The Aftermath:
Well it seems that although I loaded up on sunscreen, I still got

crispified

. I have been wearing a sports bra to work for two days now because my burns are worst over my shoulder blades where my top came in. Steve and I enjoyed a glorious 45 minute nap after we got home from the race, and then I got to work cooking. I knew that with our race,

Steph's

18 mile run, and my brother Matt's 40 mile bike ride, we'd be a hungry bunch. So I made a double batch of sweet and sour chicken with rice, pasta salad, 14 ears of sweetcorn, a turkey tenderloin, and washed up a couple of pounds of grapes. Time it took to all get eaten: 36 hours.



IM

Moo, here we come!