Holy whirlwind week! I'm still beat from this weekend's half iron distance race, so I figured I'd get back to posting by writing up a quick blurb about my first bike
TT
. I did it last Tuesday, and since I'm still formulating thoughts about the half, I thought I'd put this up first.
I had a super crazy day at work on Tuesday. The nurses in some local hospitals were preparing to strike, so many of the hospitals were diverting their patients to us in anticipation of the strike. I ran around all day and checked my email just before I left work. Steve wasn't feeling well, but he though the GI issue he was having might be over. We headed out to the western
suburbs
knowing that we might be facing a wet time trial. We found Matt in the parking lot, got registered, and spent way too much time
lallygagging
before heading out to warm up on our bikes.
I should back up and say that it's nearly a miracle that I agreed to sign up for this thing. Gear West's Tuesday Night Time Trial (TNT) is an 11 mile out and back hilly ride where cyclists and triathletes come out to push themselves and drool over each other's gear. I went out to watch Matt and Steve last year and vowed that this thing is not for me and that I myself would not be doing it in the near future. I am admittedly a
very
slow biker. The top guys out there typically pull somewhere between 27 and 28 mph over the 11 miles. I've never actually averaged over 20 mph on any ride. I was hoping to change that for this ride and resolved that I didn't care if I finished
DFL
, I was there to push
myself
. I struggled with the decision of whether or not I should wear my new
Evotri
jersey that I'd gotten in the mail a couple of days earlier. Quite frankly, I was afraid that I would shame the team by wearing the jersey and knowing that I would very likely finish at the very bottom of the field. I decided to wear it.
Steve and I headed out to warm up. We know the area well since the Gear West Du is out there, and the TNT is part of Liberty's half-iron course. Steve explained some of the hills, some landmarks to be aware of, and a plan of attack. He also mentioned that they usually get started a little late (they start around 7 pm and let a new rider go every 30 seconds). I took that as meaning we had plenty of time and asked Steve to go just a little further before turning around on our 5 mile warm-up. That turned out to be a huge mistake. On our way back, we started seeing numbers that were getting very close to ours and realized that we weren't going to make our designated start times. Steve raced to the start line and got going right away (they calculate your overall time based on what your start time was
supposed
to be). I took a few seconds to rip off my long-sleeves, reset my computer, and GO!
I paid attention to what Steve had told me and tried not to blow up on the first hill. I took it fast but not out of control. I've never really tried to push myself this hard on the bike before and didn't know what to expect. I quickly realize that one granola bar before the race would have been fine. Two was too much, and my stomach revolted. A couple of miles in, I was shifting to get up a hill and dropped my chain. I don't know why. It wasn't stretched. I think I was just putting a little too much pressure on the pedals when I shifted. My bike is a little finicky like that. So, to summarize, after just a few miles, I had made the following mistakes: eating too much before the race, missing my start, and dropping my chain. Great. You'd think I'd never been on a bike before. I got passed by so many people but just kept riding as fast as I could. I saw Steve just before the halfway point. I shouted, "I love you!" which was my way of apologizing for making us late for the start. I felt
terrible
through the whole race knowing I had made such a silly mistake. At the turn around, I had just over a 20 mph average, but we turned into a wind on the way back. I kept pushing, but my average dropped to 19.6 by the time I hit the finish line.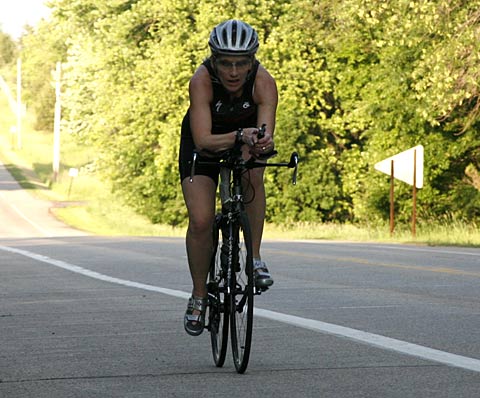 Biking down the final hill to the finish line. I've got my hand ready to stop my watch.
Hitting the finishers' chute.
I was breathing hard when I finished. After I caught my breath, Matt and I stopped for a photo.
The aftermath on my leg. I'm not even sure how I got this - maybe when i dropped my chain?
Steve, Matt, and I traded war stories about our rides and went back out for another 10 miles or so to spin out our legs. I was pooped at that point and was hoping that my bad day on the course wasn't a sign of what was to come at Liberty. We discussed going to
DQ
vs Taco Bell, but Steve and I made a Subway stop on the way home instead.
We snapped this photo before hopping in our cars and heading home.
Final Thoughts:
* I didn't finish
last
! Somebody finished after me, even though my time was off. Using my actual time and not the late start time, I would have finished ahead of two whole people out there :)
* I still can't believe I made so many mistakes out there. Guess it just sets me up for a much better race next time.
* I know it sounds
cliche
, but I really am proud of myself for showing up to race in the first place. There are some pretty intimidating people out there.
* I cannot wait to get my new bike and wheels. I'm crossing my fingers that I'll get a chance to try them out on this course this summer. It will be interesting to see what a change in equipment does for my time. I'll still be at the bottom, but I know they will make some difference.
* No 20 mph for me this time. I'll keep it on the list of goals.
Stay tuned to see how my race at Liberty went...