Happy New Year everybody!
So I realize that it's been an ETERNITY since I posted last, but I really haven't had much to say! I haven't raced since the Medtronic Twin Cities Marathon, and the rest of my workouts have sort of been business as usual. I'm still
trying
to get to Master's swim, but driving late in the evening to swim and then leave the Y wet in -20 degree F temps at 9 PM has been a challenge to say the least. I'm hoping to get back in the pool this week now that the Holidays are over and I'm not so dang exhausted. Biking outside is obviously over since we've had over 3 feet of snow so far this year - the snowiest December on record. My brother Matt, Steve, and I have been hitting our trainers in our basement once or twice a week. Monday Matt and I went for 1:40. I'm not sure if I mentioned it last winter, but the Spinnervals Endurance Pack is TOTALLY worth the money. The individual workouts are INTENSE, and even if you choose to just do a part of one, you'll still get a fabulous workout. The DVDs are 90 minutes, 90 minutes (3 x 30 minutes), 2 hours, 2 hours, and 3 hours. Matt and I are working our way up to those distances. Even if we only do 60-90 minutes of one, we never feel like we're slacking!
My running has been going surprisingly well. After a great November, December hit with a bang - lots of cold and snow. I was thankful to be able to retreat to the Metrodome for twice weekly Dome running, but then the roof collapsed, and that's been out of the question. I was faced with the decision to either head to the Y for the treadmill, which I detest, stop running and hibernate all winter, or bundle up, HTFU, and head outside. When I found out that they have been plowing down by the Mississippi (just under a mile from our house), I dug out my turtle fur, my windproof hat, and my trail shoes. It was embarrassingly obvious last year when I realized that trail shoes make great winter running shoes - they're windproof and have much better grip than my regular shoes. It only took me 12 years of winter running to figure that out! I always forget how much I love to run in the winter. There's something magical about it. It's quiet, really bright at night from all of the snow, and I always feel safer knowing the likelihood of someone hiding out in the bushes when it's sub-zero is pretty low. It takes me forever to warm up afterward, but I'm rarely cold during the run. Thank goodness for our fireplace!
As I was running by the river two weeks ago, I saw signs for the Polar Dash run. I hopped on their website to see that they had a 5K and a 10K and decided that 1/1/11 sounded like a great day to run my first 10K. I've run a dozen marathons and done races of many distances, but despite having done a number of 10Ks as part of multisport races, I've never done one as a stand alone race. Steve signed me up, and I was ready to go!
The Polar Dash starts at Shriner's Hospital in Minneapolis, about 1 2/3 mile from our house. Steve and I decided that we would just run to the starting line and run home. He was doing an indoor track meet today, so he just came along to cheer and take pictures. The race doesn't start until 11 AM, which is a good thing because we got freezing rain and snow the night before and these temperatures the morning of the race:
BRRR!
We needed all of the help we could get in the temperature department!
We got to the race site with about 15-20 minutes to spare. I hit up a porta potty, ate some Sharkies, and stood by one of the propane warmers for a minute before making my way to the start.
Frozen face, frozen Sharkies :)
Steve and me before the race (Steve's face is already frozen).
Thanks for the photo Guy and Jenny!

There were just under 1800 runners between the 5K and 10K, and we all started together. It took me 5 minutes just to get to the starting line! Soon enough, though, we were off. My fingers had gone numb while we were waiting, so I was happy to get moving.
Getting started with 1800 other runners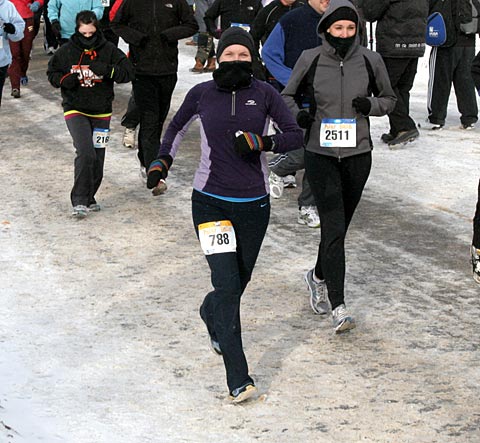 Starting with a smile
Since the 5K and 10K were together for the first 1.5 miles, there were lots of families, dogs, and runners of all ability. It was a pretty packed field, especially when the 5K front runners had turned around and were heading back. When we passed the 5K turn around, our field thinned out a lot. There was a lot of slushy, slippery snow on the road at the start of the race, but once we got into St. Paul, the roads were totally clear. I love running on my home turf, and this race was no exception. Seeing all of the trees covered in snow, the frozen river, and the faces happy to be out running with me was a great way to start the year. I got to cheer for people who were making their way back. When I hit the turn around, I was feeling great. By mile 4, my feet were wet, but I was staying plenty warm. One of the bike medics passed me at around mile 5 and asked how I was feeling. "Great!" I replied. "And good thing too because I have to run home after this!" I joked. I felt strong as I neared the finish line. I flashed Steve a smile as I ran it in, and the smile was still there when I hit the mat.
My finish with a smile
I got my medal, downed a glass of hot chocolate, and Steve and I quickly made our way back home. He had been standing outside for over an hour at that point, and his fingers were frozen. We cheered for other 10K runners as we ran back along the river, and I made it a point to thank the volunteers again. One lady asked me if I ever warmed up. I replied that it was fine while we were running. She and the other volunteers had the hard job! We snapped this photo before changing into warm clothes and making some homemade hot chocolate: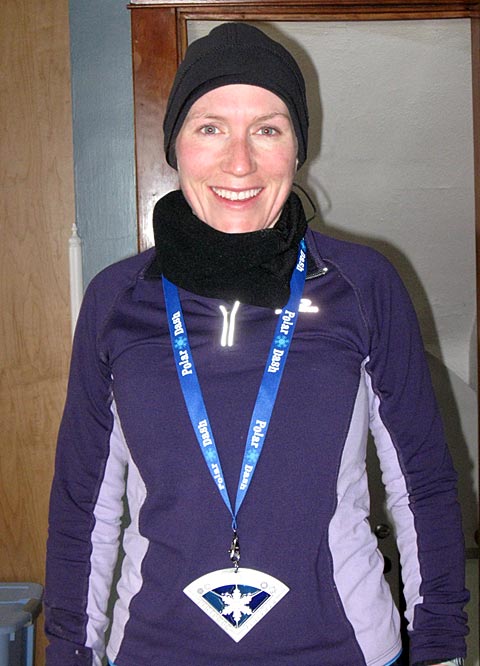 The medals are stained glass and super fun!
Then I grabbed the newest issue of Runner's World, a warm kitty, and my warmest fleece and sat by the fireplace.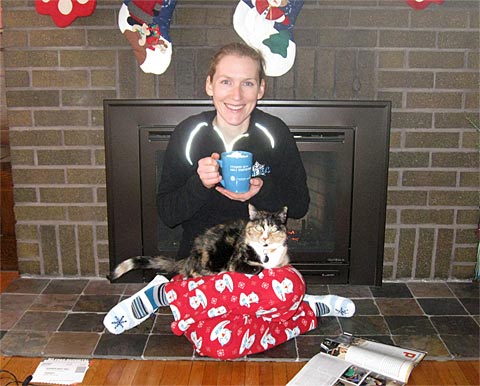 The perfect recipe for thawing out
Overall, I had a great race. I LOVE races in my backyard. It was well organized, and it was nice to be able to sleep in that morning. This may have to be a yearly tradition!