Race Me, I'm Irish!
I really am 1/4 Irish, so the title is at least partially true, but I use the word race rather loosely. I really think I've forgotten how a little bit, and that's what this year is for - to relearn it.
Sunday was the "Saint Patrick's Day Human Race" 8K, the first 8K race I've run in 7 years. It was a rather interesting start because the race was only 3/4 of a mile from our house. Steve had pre-registered us, so we left the house just about 12 minutes before the gun was scheduled to go off. We snapped this picture right before we left.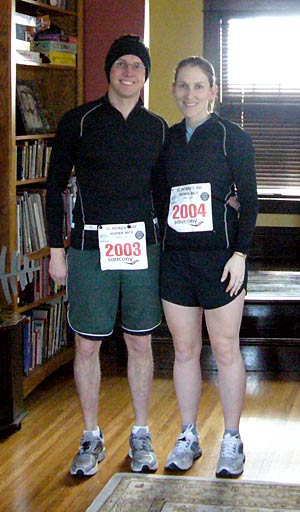 I know any warm weather readers out there are shuddering at the thought of shorts when it's 32 degrees outside (and at the sight of our pale, pale legs), but in Minnesota at the end of winter, that's a heat wave. In fact, after our jaunt to the start of the race, I put my number on my shorts anticipating possibly needing to shed the long sleeves. Two miles into the race, I was in shorts and a short sleeved shirt, and that's how I ran. Even then I was sweating like I was on some beach in Mexico!

My splits were all over the place. I had my ideal goal time of 40 minutes, which I had no idea if I could really do, my decent run goal of 42:30, and my last resort goal of 45 minutes.

Mile 1: I went out at what I thought was a pace between 8 and 8:30 and felt OK. When I hit the lap button, it read 8:18. Not too bad for where I was hoping to be.

Mile 2: Just trying to keep the pace and assessing whether I would be able to hold it for another 3 miles. This is also where I went for the short sleeves and blinded everyone around me. Pace: 8:22 Still doing OK.

Mile 3: They had us go around a little loop before heading back. I contemplated whether I really needed to stop for water, but I ended up doing it. I also had to stop dead in my tracks when a volunteer stepped right in front of me. Time: 8:43 - not great, but expected.

Mile 4: I have no idea what happened here. I thought I was pushing it, but the clock read otherwise: 8:42.

Mile 5: I started kicking it with a mile left. "Just like training, just like intervals," I kept telling myself. One after one I was passing people. I heard Steve cheering for me at the finish line, "Go Sarah, way to go Sarah!" Somehow It did not surprise me that he had managed to hijack the microphone. I hit my watch one last time: 7:24.

Something tells me I probably should have run the first 4 miles a little faster, but it's all part of racing again. Total time was 41:28, right between goals 1 and 2. Place was 545 out of 1033, so I didn't quite make the top half. There was some really tough competition there though, so I don't feel to bad about it. I had a great time and hope to do it again next year!