I still owe you a race report from last weekend's half marathon, so
that'll
be coming soon. We had a ton of fun, and although it wasn't my fastest half marathon, it wasn't my slowest either. Since yesterday officially marked the start of my
multisport
year, I am too excited to wait to tell you about it, so I figured I'd put up that race report first! It's also a continuation on my "Things That Kept Me Motivated This Winter" series - I'll be showing off my new
tri
suit.
We took a carload down to the Cannon Falls
Duathlon
last year, but this year, my aunt Jen was across the pond for business and my sister is just a couple of weeks out from her wedding, so it was just m
y
brother Matt, Steve, and me racing it.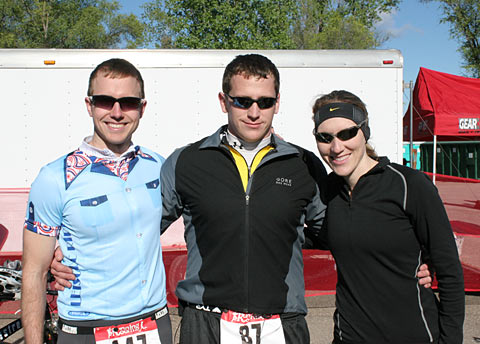 Last year was the first year that Final Stretch put this race on. We loved the low-key feel of it and the beautiful course. Plus, for some reason there's a huge difference in weather here between the last weekend of April and the first weekend of May.
The race was only 45 minutes away, and we got there just as transition was opening. We picked a great spot and quickly set up our stuff. Then the social time began. Steve and I have gotten to know Mark, the race director for Final Stretch, over the last year or two. We greeted him and his brother Steve, said hi to local speedster Julie Hull. We also found our friend Tim. Steve and I were in the same high school class with Tim, and we all ran cross country and track together. Since Tim's parents came to cheer him on, we joked that it was just like old times. Tim has done a few
tris
, but this was his first
du
. Soon my friend Jess found us in transition. Jess has been one of my running/marathon buddies for years, but she just bought a bike and is looking to do her first
du
in a couple of weeks. We invited her to come get a feel for how things were run and let her know what to expect for her first race. Jess took all of the pictures for the day. Thanks again Jess!
The run:
My overall plan for the day was to beat last year's time. I've been doing plenty of
speedwork
on the run and have been putting in the miles on my bike. I was ready. I kissed Steve good luck and lined up with my brother at the start line. I was hoping to do the first run with him. We have been running together once a week, and he's really good at pulling me.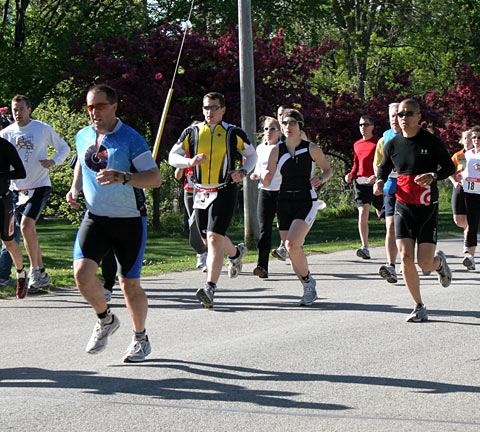 He's just a little faster than me. I was hoping to hang with him for as long as possible, and I (barely) managed to.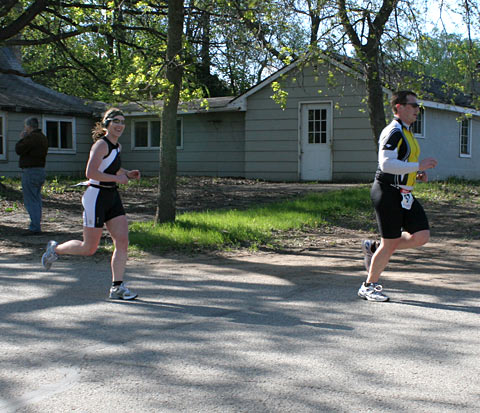 The course took us along the Cannon River, past the waterfall, and back to transition. Total run time for the two miles: 15:30.
T 1:
This was my first race where I was going to try wearing no socks. My feet were already sweaty from the run. Good thing my bike shoes have tabs to pull them on. It took me forever as it was! Next time I'll try some talc. I threw on some long sleeves and my helmet, and I was out in 1:18.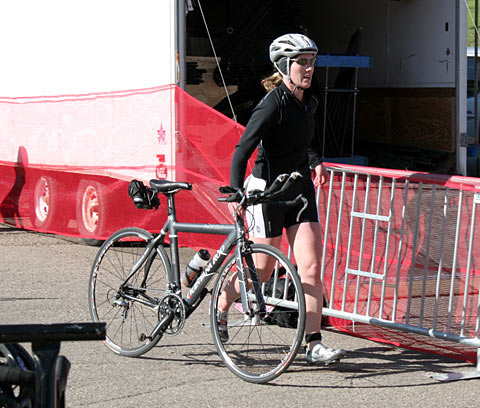 The bike:
We knew from the weather forecast that we'd have a head wind on the way back that would be nasty. People had been joking about it all morning. The reports after the race said that it was 25 mph with gusts of 30 mph. Since it was an out and back
bike
course, I was ready for the tail wind at the start. I still tried to push it, knowing that I would be paying for it on the way back... The great thing about an out and back bike was that I got to see Steve, Tim, and my brother out there, and I cheered them all on as we met. Everybody doing the return looked miserable. When I hit the turn around cone, I had a 21 mph average (20 minutes on the dot), but
nothing
could have prepared me for the wall I met. The headwinds combined with a quick uphill led to an unimaginable force pushing against me. I shifted to nearly my granny gear and told myself that I needed to keep pushing. By mile 8, my average backed down to 20. By mile 9, it was 19.1. I knew that I wouldn't keep that 18 mph average I was hoping for. I went back and forth with a couple of women. One of them told me I was her carrot. She beat me by a few meters, and I made it my goal to get her on the run. I passed several people in the last few miles and joked that running was going to be a
piece
of cake after battling the wind. I made it back in 30:18 for a total bike time 50:18 (16.7 mph).
T2:
Again with the sweaty feet. I
struggled
to get my running shoes on and made it out in just under a minute.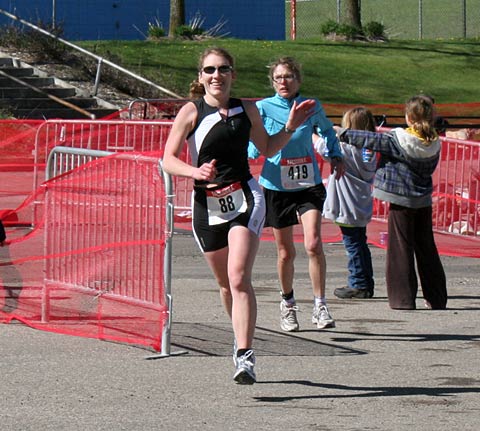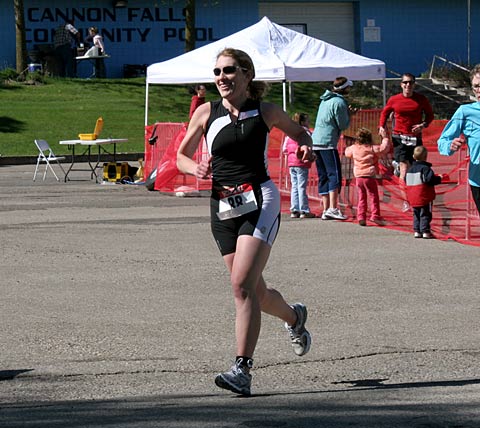 The Run:
I booked it out of T2 determined not to let any of the girls on the bike catch me. One lady did pass me right away (not one of my rabbits) and mumbled something about how terrible the bike was. I set my sights on two guys up ahead. I was a little cramped up but just kept pushing. I hit mile 1 in 8:09. Just after mile 1, I finally caught up to one of the guys. He turned around and said, "I hear footsteps!" "I've been chasing you since transition!" I replied. I told him he looked great and he thanked me. Then he shouted, "I better not see you cutting any corners at that cone up there!" I laughed and told him I had to beat him to the finish somehow. :) I love all of the great people I meet at races. I hit mile 2 in 8:16. Then I started to hear footsteps. I pushed harder. I was worried that it was one of the girls from the bike. When I turned around, though, I realized it was two guys chasing me down. I finally turned to one guy with just under 600 meters left and said, "Go ahead and pass me! I've been hearing you coming for a half mile now!"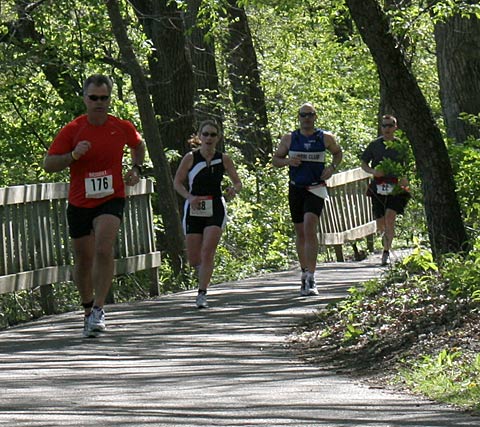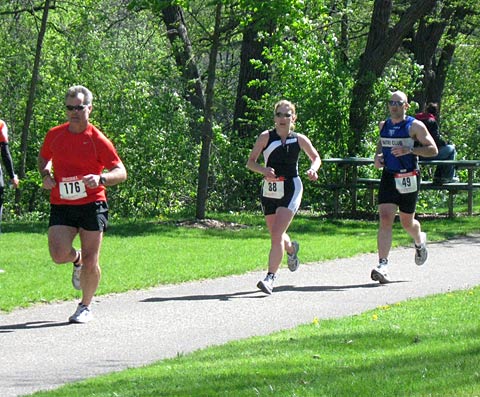 He told me that he didn't want to get injured, and I continued picking up speed. Neither guy passed me, and I was able to catch one more guy just before the finish line. Total run time: 24:22 for the three miles. Not too shabby for me! My overall finishing time: 1:32:29 (it's a little longer than my watch time because they didn't have a mat at the start).
I caught my breath, compared wind war stories with Steve and Matt, hung out with Jess and some great local folks, and waited for the awards ceremony to start.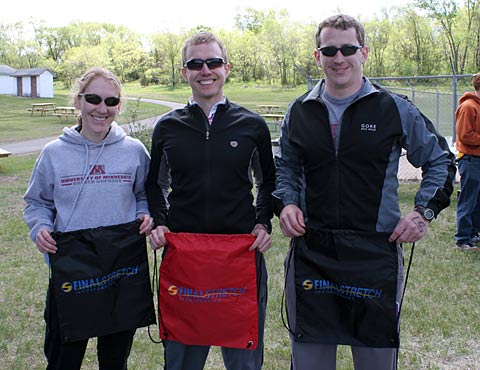 We had a pleasant surprise when the announced our age groups. Steve, Matt, and I all took second in our age group.
Woot
!
Some final thoughts:

* I beat last year's time by just under a minute. My bike split was a minute or two slower than last year, but my first run was 10 seconds faster, and my second run was 35 seconds faster. Given the crazy conditions out there, I'm pretty happy with that.
* My
Sugoi
Velocity
tri
suit held up great! This was my trial run for some of my longer upcoming races, and I was really happy with the way it performed. It's not necessarily the most flattering thing I've ever worn (seriously, I've been more worried about fitting into this
tri
suit properly than fitting into my sister's bridesmaid's dress...), but it performed well, and it made me
feel
fast. I'll have a later post comparing this
tri
suit to the outfit I've been wearing for the last couple of seasons.
* Official race results aren't up yet. They're still working some bugs out of their timing system.
* I'm a distance girl through and through, but I love sprints for the sheer sake of not having to worry about my race nutrition at all. I know that if I properly fuel the night before and the morning of the race, I can get away with just drinking during the event.
* My feet did not love the no sock thing on the run. I've gotten away with it plenty of times before, but they're still a little beat up from last weekend's half marathon. I think I'll be wearing them for at least the second run at the Gear West Du.
* I am SO excited to be leading my friend Jess to her first
multisport
event in 3 weeks.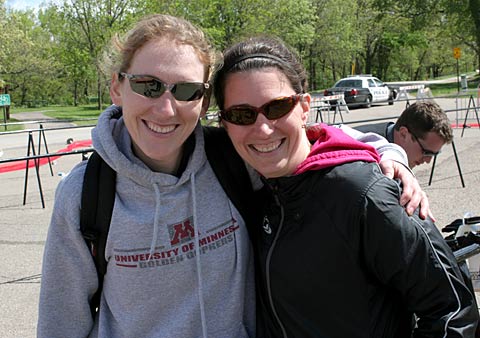 * Holy cow, I'd better get in the pool. Six weeks to my half iron distance race! (Official race schedule to come soon, I promise)