Well, as I mentioned in my race report for last weekend's
duathlon
, I've been sporting a new
tri
suit lately. I wore it in last weekend's
du
to see how it would hold up so I didn't get any nasty surprises for longer races coming up. It was part of my Christmas present from Steve (and Outside PR) along with the Piston tights that I talked about a couple of weeks ago. I've been getting a lot of questions on what to wear for upcoming races from friends and blogger buddies, so this is a good chance to review some of my racing "outfits" over the last couple of years and talk about the pros and cons of each one.
Swimsuit Only:
I did my first
tri
in 2004. I was a broke college grad student married to another broke college grad student. I'd already dropped a boatload of money on a bike, a helmet, and some race fees, and I didn't have the dough to go out and buy fancy clothes too. I was 23 years old and didn't know any better, so I just raced the ENTIRE
olympic
distance race in nothing but a sports bra and a swimming suit: See exhibit A, just after a water stop:
Pros to this approach:
It was cheap. No extra clothing required. If fit the budget of a college grad student
It made transitions fast - no monkeying around
The race was nearly 100 degrees when you factored in the heat index. I probably would have been a lot hotter had I been in more clothes
I did the swim without a wetsuit and had no issues
Cons to this approach:
Now in my 7

th

year of

tris

and nearing 30, I'm not sure I'd have the guts to run around Minneapolis in nothing but a swimming suit for 6 miles.
No padding on the bike - this may be OK for shorter distances, but it can get uncomfortable quickly.
Could get really chilly on a cooler day...
Conclusion: It wasn't pretty, but it did the trick. I'd never do it today, but if you have the bod of a pro triathlete, go for it!
Getting Creative With What's in Your Dresser:
In 2006, I did my first half iron distance race. Having only done two olys before that (in my swimming suit), I wondered what I should wear for a longer race. I didn't have any mentors to ask. I knew that there wouldn't be a changing tent in transition. I knew I couldn't swim or run in my bike shorts, but I would need plenty of padding under me to survive a 56 mile bike ride. I had just finished grad school, had just dropped $1000 for boards, and was training for Ironman. Blowing our food money wasn't a viable option. I knew that I would be doing a full change for every leg of Ironman, so I decided that this would be my trial run. I swam in a two piece athletic swim suit under my wetsuit. In T1, I slipped a sports bra on over my suit top and took the suit top off (just like changing on the sports bus in high school except in the middle of transition!). I put a pair of bike shorts on over my bikini bottoms, donned the rest of my gear, and headed out for the bike. In T2, I took off the bike shorts, put a pair of running shorts over the bikini bottoms, slipped the bikini bottoms off a la high school changing again, and headed out for my 13.1 mile run. Although the swim and the run were fine, the bike was MISERABLE. Never in my life have I been so uncomfortable on a 56 mile bike ride. The swimsuit under my bike shorts was a HORRIBLE idea, and had the corn or grass been taller, I may have stopped in the middle of the bike ride to leave them out in a field. The rubbing and the chafing in the 100 degree heat made me SO glad to be done with that bike ride.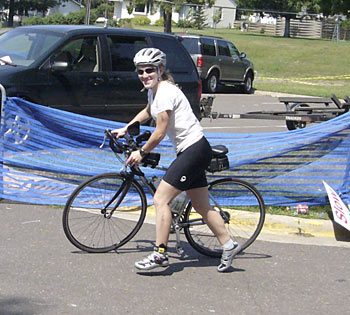 I also chose a top that was way too big, and when it got wet on the run, it turned into a dress: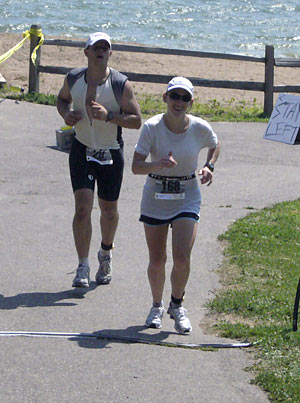 Pros to this approach:
It was cheap. I already had bike and run gear. I did have better tops than that white one, which would have made the run more comfortable.
In some senses, it was good practice for the full change I did at

Ironman

That race was ungodly hot. To me, nothing is more comfortable to run in than running shorts.
Cons to this approach:


See above

explanation

. I was miserable. In retrospect, this was a terrible idea. Live and learn...
Conclusion: While I'm all for mixing and matching and using what you already have, I could have done this much better. Had I used a more fitted running top and tried a pair of tri shorts (see below), the whole thing would have worked much better. It makes for a good story though!

Mix and Match From Your Local Tri Store:
I mostly told you about the above experiences to let you know what you may see out there and so you can see how far I've come :) I am absolutely in favor of using what you already have if you can. It's cheaper, it's less wasteful, and often it'll work just fine. Before I did my 3rd olympic distance tri in 2008, I decided that I really needed to invest in a good pair of tri shorts. I looked at the meager selection at a local outdoor store and a local running store before making the trip out to Gear West - the local mecca of all things tri. I must have tried on 20 pairs of tri shorts before deciding on the Sugoi Blast. Many of the shorts were too short, too long, the chamois was weird, I didn't feel like they'd stay put, or (you fill in the blank). To my surprise, they weren't as expensive as I thought they'd be. They cost less than a pair of bike shorts (mine were around $45). I have really meaty legs, and these shorts didn't make them look like sausages crammed into casing. I chose basic black (they come in a few color combinations) so that I could pick a tri top in whatever brand/color I wanted. I tried on a whole bunch of tops from all different companies, and I finally settled on a Nike one. It had big pockets in the back, felt like it would stay down, and the built in bra seemed to add just enough support when paired with another sports bra. Side note: I know there are plenty of triathletes out there who can get away with wearing just the built-in bra, but I'm not one of them, especially for longer distances. I ended up finding a couple more tops like it on sale later. I had had so much success with the one I owned that I bought them.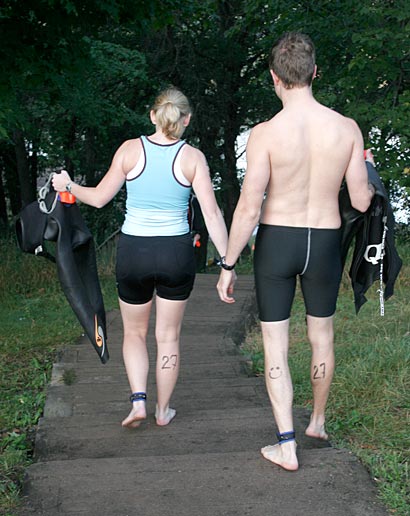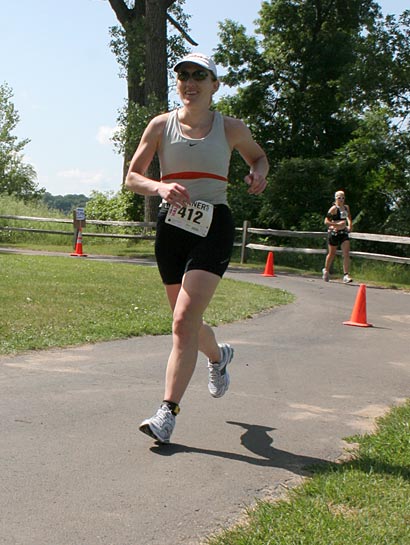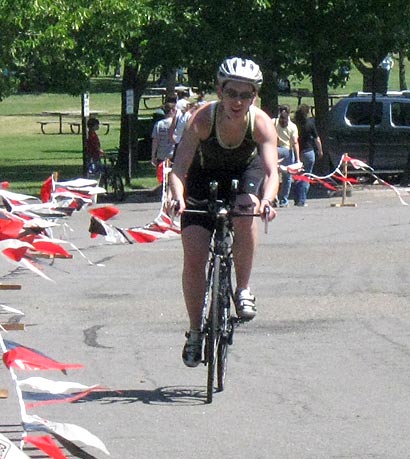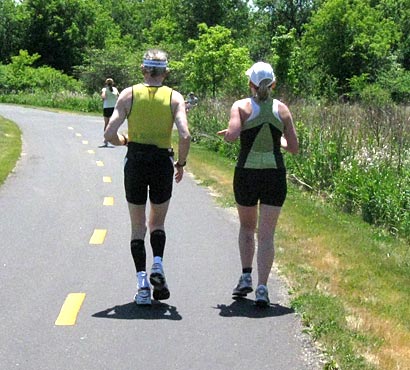 Pros for this outfit:
It wasn't as expensive as I thought it would be.

Tri

shorts are comfortable to wear in the swim, on the bike, and on the run.
By mixing and matching at your local

tri

store (I recommend going in person as opposed to buying online to get a feel for what fits and what will be comfortable), you can find an entire outfit that fits well.
I LOVE the pockets in the back of these tops. I can fit an entire 70.3's nutrition back there.
This top stays put well - no belly hanging out.
Cons for this outfit:

Although it's not that expensive, it is still extra money that I didn't have several years ago. I probably could have gotten away with the

tri

shorts and a running top.
This top is a little low cut. That combined with the squishing going on with the extra sports bra leads to some interesting race photos on the bike - a little too much cleave for me...
I did my first splash and dash last summer. It was the first time that I didn't have a wetsuit on over my top. To my horror, the low cut top acted as a GIANT parachute, and I could feel it slowing me down in the water.
Conclusion: Tri shorts are a must. The advice that I give to all athletes doing their first multisport event is to go to their local tri shop and try on a few pairs until they find something comfortable and flattering. A good top is nice too, but if you are strapped for cash, you could always swim in a sports bra and tri shorts and put on a shirt in T1. I know this may alienate me from the cool crowd, but I still can't bike for longer than 30 miles in tri shorts. This usually means that I put a pair of bike shorts on over my tri shorts in T1 and take them off again in T2. It doesn't feel too bulky, it's never gotten uncomfortable for me, and my bum and lady parts are SO much happier.

Sugoi Velocity Tri Top and Shorts/(Insert Fast-Looking Tri Suit Model Here):
I've already talked about racing in this suit last weekend. Here's a reminder of what it looks like from the back and the front:

I'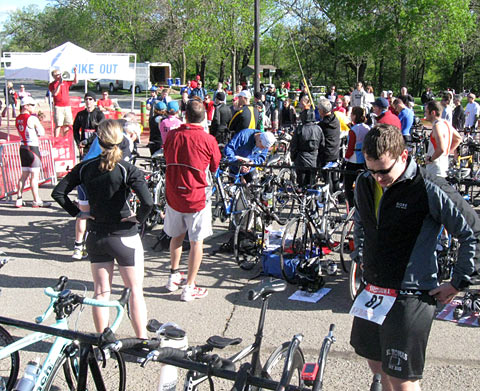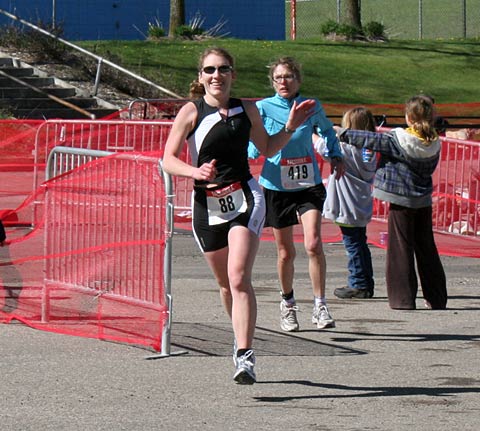 Pros for this outfit:
The built-in bra is very supportive (I'm still wearing my regular sports bra underneath, but the combo is almost too much support).
My other

Sugoi

shorts have little

grippies

around the bottom of the legs. I was worried that since these didn't, the shorts wouldn't stay put. I had no problems.
No sausage leg syndrome!!!
Although I haven't taken this suit in the water yet, I don't think there will be the same drag issues my old

tri

top has. You can zip the top up quite high.
The fabric feels like it will be fast in the water and dry quickly - a big plus for races where the swim is too warm for wetsuits.
There's a lot of technology put into the fabric that these things are made of.
I feel the part when I'm out on the course.
Cons for this outfit:

It's pricey! The top and shorts together will set you back around $220 if you pay full price for both.
I'm not sure I'm a huge fan of the big white panels on the sides. For one, they are see-through. I have a freckle on my left hip, and you can see it through the shorts.
I am a very average sized person, and I don't know how forgiving these shorts would be if you are much larger than a medium. They're certainly worth a try!
The top does creep up a little, but I didn't feel like I was racing the whole time with my belly hanging out.
The pockets in the back of the top are pretty small. I'm used to the huge ones in my Nike top. I'm going to have to get creative in stashing all of my food and gear at my 70.3 in 5 weeks.
The fabric doesn't breathe as well as I would have expected. This could be an issue for hot races...
Conclusion: I feel fast when I'm in this suit. It's surprisingly comfortable, even though it's literally skin-tight. I think it will perform better in the water than anything I've used before, and so far, it has shown to perform well on the bike and the run too. They make a one-piece Velocity, but I'd much rather have the two piece. Although the one piece would solve any midriff issues, I'm not keen on having to take the whole thing off for every pre-race potty visit I make. Plus, I've had more than one race that required a duck in the bushes. It's one thing to have your shorts around your knees. It's quite another to be naked in the bushes.
I'll keep you posted on how this suit performs later this year for longer and hotter races. If you've got the money to spend on a higher-end tri suit, this is a fun place to do it.
Anybody out there have anything additional to add?