In case you haven't guessed from my recent posts, this race was an "A" race for me. Most of my training this spring has been in anticipation of this race. I did this race for the first time last year and had a lot of fun. It's a beautiful course with a relatively clear swim. The bike course is hilly and beautiful, and the run is an out and back on a paved trail.
Friday, Steve and I drove to Lake
Nokomis
so try out my new wetsuit. I got my new 2
xu
wetsuit in the mail a little over a week ago, and I was hoping to wear it for the race, but I wanted to make sure that there wouldn't be any issues. Steve and I have done 2 open water swims this spring, and Square Lake has been nice and warm. However, it has been cold here the last week or two, and we've gotten A LOT of rain. This has cooled down the lakes considerably. I did not have a warm swim, and I was in and out in 10 minutes. The new wetsuit is AWESOME!!! The rubber is so much softer than my old one, and I feel more buoyant. I'm not sure if I really am any faster in it, but it's fun to think I am :)
Not long after Steve and I got back home, we heard a knock on our door. One of our new neighbors, a college kid, was coming over to warn us that they were going to have a party. I not so subtly told him that we appreciated the warning and that we would be getting up at 4 AM for a race. We were up the next morning before they went to bed. Thankfully, the noise wasn't anything that a fan and an air conditioner in our bedroom couldn't drown out.
Our alarm clock went off at a time that seemed way too early. We had laid all of our stuff out the night before, so all we had to do was get the car packed, get dressed, eat breakfast, and hop on the freeway. Transition opened at 5:30, and we were there shortly after. We saw tons of friends as we were getting ready. I said hi to all of them, but I was a little nervous and wasn't feeling super conversational.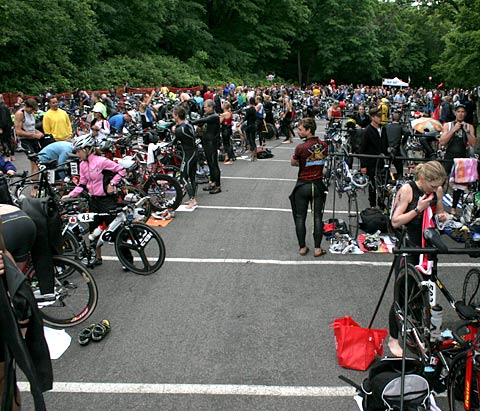 Transition area - I'm on the right getting my stuff ready
Steve and me before the race
I was really hoping to PR at this race. My previous PR was at
Chisago
last summer, where I smashed my finishing times from all 6 of my other 70.3s and finished in 6:06:59. Even though that course was short, it started to make me wonder if I would be able to see a 5 at the beginning of my finishing time in the near future.
Walking down to the swim in my new 2
xu
wetsuit
Smiling and ready to go!
Ready, get set, go!
The Swim:
I said goodbye to Steve, kissed him good luck and hopped in the water. All of the rain we'd been having combined with a spell of cool weather had cooled the lake down quite a bit. I tried to draft when I could, but I didn't have much success. It seemed that all of the women swimming in my time frame were choosing to
zig
-
zag
it! The morning had seemed pretty calm, but the water got really choppy once we got out there. I knew my swim time wouldn't be stellar. I haven't spent much time in the pool this spring. That fact combined with my usual slow swim times left me happy with the 45:05 (with about 30 seconds of that running up to transition) that I saw as I hit T1.
Out of the water and ready to hit the stairs
T1: My theme for the day was "7 seconds." I beat a girl in my age group by 7 seconds at Gear West. That 7 seconds could have come from any part of my race, but you can't always gain it in a sprint to the finish. Translation: Don't waste time. I was out in 2:24 - about a minute faster than my T1 time from last year.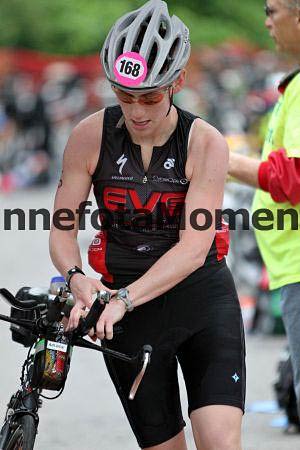 Hitting my watch just out of T2
The Bike: "Seven seconds," I just kept repeating to myself. "Make the most out of every uphill. Push through the downhills when you can." My goal was to see an average in the high 17s, maybe even close to 18. In order to get anywhere near the 6 hour mark, I would need a good showing on the bike. The plan was to ride steady but comfortable on the first loop and kick it up a little on the second loop. It's definitely a hilly course, and I didn't want to blow up early. The weather forecast had been saying 70s with a 30-50% chance of rain. The thought of me being cold out there really hadn't crossed my mind. When will I learn from IM WI '06????? I was wet, and it was chilly. I don't think it got above 60. I couldn't feel my fingers very well, which made eating and drinking quite the challenge. I should have packed warm clothes just in case, but I was out there in just my bike shorts (with tri shorts underneath), sports bra, and tri top. I wasn't even wearing socks. Nearing the end of the first loop, Steve caught me (he was doing the Oly and had started significantly later than me). We wished each other luck, and I passed transition with a 17.5 mph average - time to kick it up a little. Mark Bongers, the race director, cheered for me as I passed transition. I waved, smiled, and prepared myself for round two. That's when my heart sank a little. I turned into a wind. Drat. It had picked up, a lot. I tried to stay positive. That's when the nagging feeling of having to pee started, and so began the saga that lasted the next 20 miles. It was all could think about, and I really thought that if I just concentrated and relaxed on the downhill, I could pee on the bike. Seven seconds. No time to waste. I was shooting for a 5 at the front of my finish time. I tried and I tried. I wasted so many good downhills and ended up having to power up the hills that much harder because I had lost momentum. Then I realized that it was starting to affect my nutrition. I wasn't eating or drinking as well as I should have been because I had to pee so bad. Around mile 42, I finally gave up and pulled off into some bushes. It took a full 2 minutes, which made my 7 seconds mantra seem minuscule. I felt SO much better and cursed myself for waiting so long. The wind, the having to pee, and the lack of downhill (and thus uphill) speed had dropped my average to 17.3 mph. I stared at that darn 17.3 average for the next 30 minutes. It wouldn't budge. I finally got it up to 17.4, then it started raining. No more flying down those hills. The goal for the last 6 miles became "don't wipe out." I pulled into T2 wet, freezing cold, and feeling defeated. All of that hill training had left me with 3:17:28 bike split (17.02 mph average - 0.2 mph slower than my computer's average because of the potty stop).
T2: I saw Steve cheering and told him that I wasn't having an ideal race. I was definitely feeling sorry for myself, but I still tried to hurry. I slipped off my extra bike shorts, got rid of my helmet and bike shoes, and grabbed a hat, my race belt, and my running shoes (thankfully the rain had not yet drenched my socks). My fingers were frozen, and it took a lot of work to get my shoes on. I was out in 2:12 - just a few seconds faster than the 2:18 I posted last year at this race.

Trying harder than I should be to put my socks on
Running out of T2
Just a few hundred feet into the run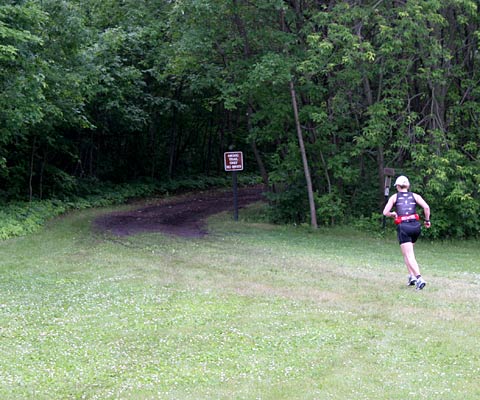 Ready to tackle that first big hill
The Run: I told myself to suck it up and get running. One thing I do well in the cold and the rain is run. I told my brain that it was only allowed to cheer for people and pick people ahead of me to pass. There would be no more feeling sorry for myself. I told my legs that they were in charge of running, and the rest of me wouldn't think about it. This strategy worked really well, actually. I had seen the first place finisher coming down the wood chip hill just as I was starting, so I literally got to cheer on everybody out there (it was an out and back course). It made me feel good to be encouraging and joking around with so many of the racers as I was meeting them and passing them, and for the first time all day, I started to feel good. Around mile 10, my times were slowing up a little and I had to pee...again. In retrospect, I'm sure I was hypothermic. I really didn't drink much all day, but cold diuresis kicks in, and you can actually end up fluid down. I ducked into the bushes for the last time. Then I pushed through the pain for the last 5K to cross the finish line in a run time of 2:05:39 - a new 70.3 run PR by over 6 minutes.
Striding in to the finish
Done with my soggy run!
My hard-earned medal :)
Total Time: 6:12:49 - my second fastest 70. 3(not counting Steelhead 08 which was a du). My time was nearly 40 minutes faster than my Liberty race last year.
Final Stats:

Swim: 45:05
T1: 2:24
Bike: 3:17:28
T2: 2:12
Run: 2:05
Final time: 6:12:45 192/234 overall, 52/80 women, 11/16 AG

Final Thoughts:
* No finish time with a 5 for me this time around, but I am getting closer. I cut nearly 40 minutes off my time from last year. In retrospect, I picked a pretty aggressive course to try to see this happen. I'm hoping that with some more consistent work in the pool, a better (sweet!) new bike and wheels (which will hopefully be in my hands soon), and my new coach, attaining this goal won't be too far off.
* In retrospect, my goal on the bike was probably a bit too aggressive. My bike time at this race last year was 3:22. I was significantly faster this year, even with a duck into the bushes. I know I'll keep getting faster, and I would have loved to see my time had I not needed a potty stop so bad.
* Steve had already packed up our stuff and was ready to go.
All of our wet soggy stuff was loaded up!
The park's campground had WONDERFUL warm showers. We cleaned off, dressed up, and got in the car to drive to Steve's cousin's wedding. Unfortunately, that meant that we didn't get to catch up with our friends at the finish. Everyone did really well though!
* I know what I need to do for Rev3. Bring on the training!