Things have been pretty busy in our house in the last couple of weeks - finishing up our guest room so that we can dive into Baby's room, getting a lot of annual review paperwork done for work, and crossing more off the baby to do list (like registering) have been just a few things keeping me busy. I've wanted to get this post up even though Steve posted pics on his blog 10 days ago. I'm supposed to have a
trainer
date with my brother right now but have come down with some sort of super nasty bug so had to bail on him. I guess
now's
a great time to catch up while I'm on the couch feeling like poo... As I mentioned in my last post, I decided to back down to the 7K a week or 2 before this race. I just didn't know that I'd make the cutoff of 3 hours, and it would make me feel terrible to
DNF
a race. In the week leading up to the race, I had a couple of bad runs and was starting to wonder if this was it, if I was officially done with pregnancy running. I had 2 runs in a row where things just didn't seem to click, including the day I went to pick up my race packet. I was really glad that that I had switched to the shorter race. Steve and I started off the morning by driving to the halfway point of the 13.1 to see local
tri
buddies Mark and Kris. We parked our car and ran 3/4 of a mile there and back just to say hi. I was a little nervous that this would take a lot out of me given my crappy runs earlier that week, but it turned out that I shouldn't have been worried. We headed over to Minneapolis to get to my 7K start line and walked another 3/4 mile to join the masses. I immediately hopped in line for the
porta
potties! The race was HUGE. I really hadn't paid much attention ahead of time, but there were over 5,000 people signed up for the 7K. The pace markers were literally blocks from the start line. We snapped this photo of the two of us before I had to use the
porta
potty one more time.
Steve, Me, and The Bump
The line was moving really slow, but I wasn't too worried. The race was chip timed, and I knew I'd be lining up toward the back anyway. I heard them start before I even got into the
porta
potty but knew I'd still have a number of minutes to spare. I handed Steve my extra clothes, and we snapped this photo
before
I joined the rest of the crowd: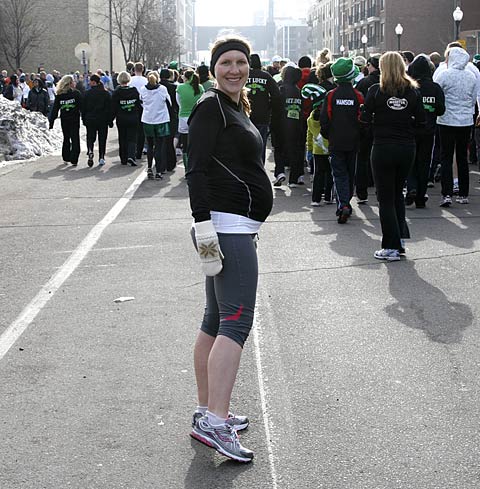 Baby's getting ready for a ride!
My goal was to take the whole race easy. That's been my strategy through this whole pregnancy - listen to my body, make a few friends on the course, and just enjoy getting some fresh air. 1K and 2K: 14:55 - I spent the first 2K getting into a groove. Since I had literally started behind everyone, I had a lot of people to pass! There were quite a few walkers and walk/runners out there, and we were having a beautiful morning. As I hit the 1.5 K mark, I heard them announcing the winner approaching the finish line. I had started 12 minutes after the gun, so I guess this wasn't so surprising.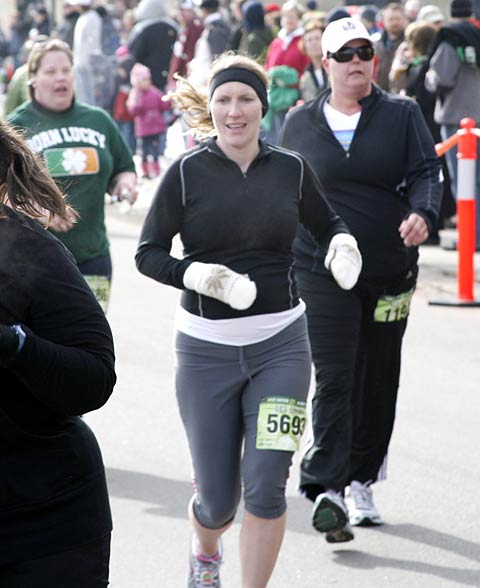 I somehow missed Steve in the crowd, but he of course found me with his camera!
3K: - 7:31 I saw a
porta
potty but decided I didn't need it yet. We turned out of the wind, and I peeled off my long sleeves. I'm a hot runner even when I don't have the pregnancy hormones at work, so high 30s/low 40s is sleeveless weather for sure. 4K: 11:40 - four + minutes of this was a
porta
potty stop. At the halfway point, I really had to pee, and even though there was a line, I knew I'd enjoy the rest of the race much more if I stopped for a couple of minutes. One woman asked me if I was in the line. "Yep!" I exclaimed, "Right next to the pregnant lady!" She then went on to tell me that she was 4 months pregnant and had never had to pee so bad in her life. Just then, another obviously pregnant woman exited the john. That made 3 out of the 10 or so of us in line who were
preggo
:) I was in and out in a flash, grabbed some water at the water stop across the street, and I was on my way! 5K: 7:17 - feeling good - SO glad I stopped for that potty break. 6K: 7:05 - My legs felt great, my lungs felt good. My bladder was definitely the limiter. There were a few people huffing and puffing around me, and I offered the encouragement that we only had 1K left. 7K: 6:59 - People around me were sprinting to the finish. I did pick up the pace a little, but my body definitely kept me in check.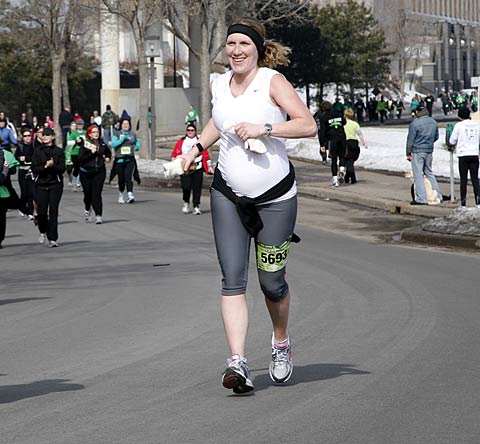 Baby and Momma feeling good to the finish. How many other people do you notice without sleeves?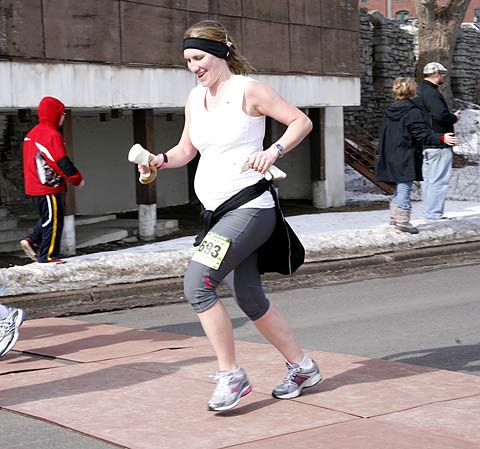 Crossing the finish line with a smile on my face
Total time: 55:25 with an average of 12:45/mile. Subtracting my bathroom stop, that puts me at under 11:45/mile. At 7 months pregnant, I'm satisfied with that. Heck, at 7 months pregnant, I'm satisfied with still being able to move!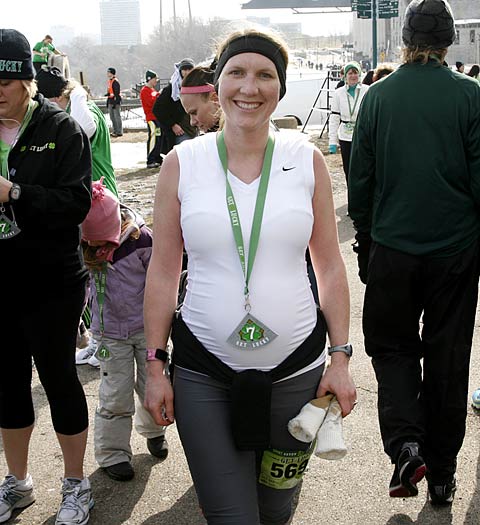 Sporting my medal just after finishing
Other numbers (not that I'm too concerned): I placed 4568/5109 total runners and 3208/3668 females. I passed 352 people out there, and 22 people passed me. Overall it was a fun race. It was well-run, had a pretty course, and had a good, excitable crowd there to cheer - even through the time I hit the finish line! Plus, I now have one more medal to put up in Baby's room - a reminder of races we've done together :)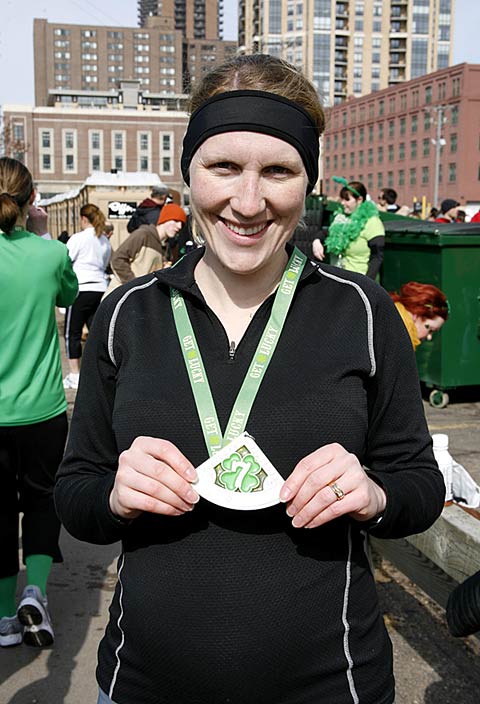 Final thoughts: I don't regret downgrading to the 7K. I felt great and have been having good runs since, so I think those 2 bad ones were just flukes. However, factoring in several more potty stops, a few food stops, and maybe a
walk break
or 2, I would have really been cutting it close to meet the cutoff for the triple 7K. I'll keep my eye out for more races this spring. As long as I'm feeling good, I may as well be out there enjoying myself!