A Few of My Favorite Things, Part 1
Folks, I have to admit it. I am addicted to buying athletic apparel, gear, etc. This addiction has never gotten out of control. I'm too financially conscious for that. However, I love having things that make my workouts that much better, whether that's a nice bike, a sports bra that doesn't make my soft female parts bleed, running shorts that just fit, or the perfect pair of sunglasses, I will research and research until I have found what I truly love. I then literally wear my stuff out. I have thus decided to start a section entitled "A Few of My Favorite Things." People that know me know that once I find something that is good quality and works, I should probably ask for commission from the company because I cannot stop talking about it. I added two more things to the list over the past week: my new helmet and my new bike shoes. Mr. SLS has been kind enough to help me illustrate these items with his wonderful photo taking abilities.
Bike Helmet Before
Sorry about the funny face on the pic. I was trying to look very depressed in my old helmet in this "before" picture, but I could not stop laughing. As you can see, though, the helmet didn't exactly fit right. It did the trick for 3 years, but with IM coming up, I just wanted something better.
Bike Helmet After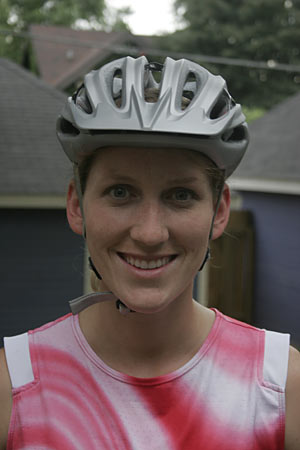 I can't tell you how much I LOVE this new helmet. It fits like a dream, has better ventilation, and doesn't sit at the very top of my head. I think it just looks better all around. I tried it out for the first time on my ride last night and couldn't believe the difference. I guess I didn't know what I was missing.
New Shoes!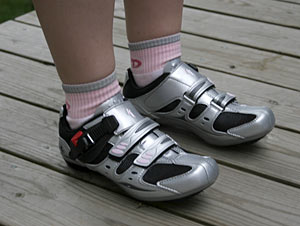 As I mentioned in my last post, I bought new shoes last week (on sale of course!). I hadn't gotten them out of the box yet because I didn't know if I REALLY needed new shoes. Although I've had my old ones for 3 years and probably have over 3000 miles on them if you count my spinning classes during the winter, I still thought that they were doing the job. Well, after the sports med MD told me to try the new ones, I did last night. I rode the same exact course as I did last Tues, but this time my foot barely hurt at all! It was actually fine until the last few miles, when it barely twinged. When I clipped into my bike, I realized that the old ones were probably shot. The new shoes feel stiffer and more supportive. I can even tell that I have new clips on the bottem because that seems more stable too! I am definitely encouraged at the thought of a simple thing like new shoes (along with the NSAIDS and ice) making enough difference to get back into regular training rides :)
I'll keep you posted, but the half IM this weekend is seeming less and less scary. The weather on the other hand, is a little frightening. Sunday's forecast: sunny and 97 friggn degrees!!! I know that IM could be that hot too, but couldn't I get a little break? I'm a pretty heavy sweater, so I'll really have to try hard to get in enough fluids. More on the nutrition plan later.