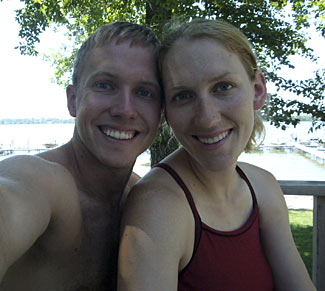 Nine Years
I missed the opportunity last Wed (7/19) to dedicate a post, so this is my chance to redeem myself. Today officially marks 9 years of Steve and I being together. That's more than 1/3 my life! Last week was our 3 year wedding anniversary.
So... today I'd just like to say how lucky a girl I am. Mr. Pharmie/Mr. SLS is definitely my other half. On paper, you'd wonder how the two of us ended up together. He eats mostly meat and very few vegetables. I eat mostly vegetables and nearly have to force myself to eat meat. He's an artist; I'm a scientist. He's always warm, and I'm usually cold. He prefers to drive the car, whereas I prefer to sleep in it. He likes to channel surf. I'm a park it at one channel kind of girl. He owns a Mac, I've got a PC. Somehow, though, we manage to perfectly compliment each other. Our core set of values are the same. We both love to learn. We love to laugh, and we are both total nerds.
Steve is at every one of my races. I know he is my biggest fan, although my sisters are giving him a run for his money. He has been nothing but supportive of me and all of my crazy undertakings the last several years.
I'd like to propose a toast for this occasion: Here's to you, Steve. As you sarcastically told one of your friends in 10th grade history class, "Uh, yeeaahh, I can just see Sarah and I together," I secretly had a crush on you. Guess I won :) (Editor's note: he later told me that he didn't think that I was a fun person but soon found out how wrong he was!)