The Donnings of a Minnesota Runner

Boy have I had some extremes in apparel in the last couple of weeks!

Two weeks ago, we were having "high" temperatures in the range of 0 degrees here in Minnesota, not counting the wind chill. So just for the heck of it, I decided to make a post out of all the clothes I was slapping on.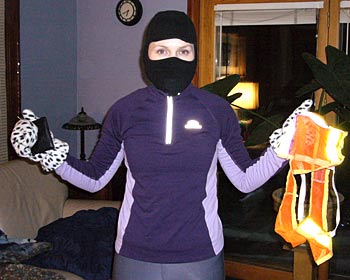 Here's the list:

- Enell sports bra – hideously ugly but amazingly supportive.
- White tank top, tucked into my tights to avoid the updraft
- Thick long-sleeved technical shirt
- Thick long-sleeved technical shirt with a half zipper, just in case I need a little ventilation.
- Two pairs of spandex tights
- Smartwool socks. They're like little massages on my feet while I'm running.
- Ski mask to keep as little skin exposed as possible
- Ear band on the outside of my ski mask for additional coverage on my ears and forehead.
- Running shoes
- Watch
- Mittens
- Reflective vest. It still gets dark very early here.

Wouldn't you know, after 20 minutes of getting dressed, I had to pee. Then I redressed, retucked, and headed out. I was a little chilly for the first mile but the next 7 actually felt pretty good. It was afterward that I had a problem.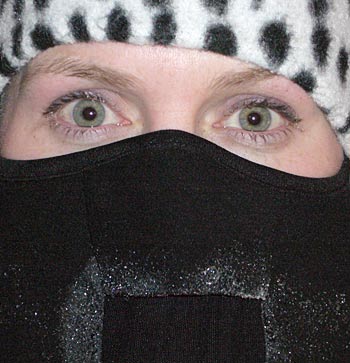 You can't really see it, but there are icicles on my eyelashes.
I had to lock myself in our bathroom in front of a heater drinking hot chocolate for 45 minutes before I started to warm up. Those post running chillies are a be-otch!

Fast forward one week. Orlando is having a cold spell, the chilliest it's been in a long while: record lows. It was in the low 50s when I got there for my business conference, but it warmed up to 80 by our last day. I totally took advantage of it! I ran every day there, except for the one where I did a long swim in an outdoor pool. It felt so good to run free, and it's unbelievably easier to get dressed when you only need shorts and a tank top. I ran 6,8, and 4 miles in the sunshine and even got a little pink on my shoulders. I came to the conclusion that my recent funk really has been the lack of sun and the crappy cold weather. Can't wait for spring…