Well, here it is - my last
tri
race report of 2009. The outdoor pools are all closing, and the lakes are getting colder. In a couple of weeks, they won't be
swimmable
. It'll be too cold. I had high hopes for this race when I first signed up. It would be my first
oly
of the year, and I really have been working on getting faster. The groin injury, however, resulted in a screeching halt in my training, and I've been on the bike and in the water all of twice each since
Chisago
70.3 at the end of July. Like I said in my last post, I've been just trying to get in most of my critical runs in an effort to be well enough for the marathon next month. It's hard to turn that race mentality off when you get to the site, though. I had told myself all week that if my leg wasn't feeling it, it was totally
ok
to
DNF
if it meant saving the marathon.
Steve and I got to the race site about an hour early. We knew it would be a small race (the sprint the day before had 400 + participants but the
oly
only had 111). Even though the race was technically in Wisconsin (Hudson), it's just a little over 20 minutes from our door. We set up our stuff, said hi to our friend
Jen
and her hubby, and shimmied into our wetsuits.
Jen and me getting body marked
The Swim:
The swim was a 2 wave start. Men went first and women and teams went out 3 minutes later. I knew I hadn't really put in any swim time, but somehow my times always come out the same regardless of how much work I put in, so I was still hoping to come out in around 35 minutes - slow by most people's standards but pretty normal for me. I positioned myself toward the inside and at the back. I'm slow enough that this position just seems to work for me, and this time was no exception. I had a lot of open clear water for much of the two loop swim, and compared to my swim at
Chisago
, it was very drama free. I hopped out of the water in 34:11, a PR by over a minute since my last
oly
.
T1:
I was very careful taking off my wetsuit. I sat down and pulled my left leg out with my arms for fear that I'd really aggravate my groin if I tried to get it off normally. Jerry
MacNeil
, local
tri
announcer, joked that I was demonstrating one way to get a wetsuit off and then commenting that I had MUCH better balance than Steve in putting on my socks and shoes. It felt kind of cool having somebody giving my play by play in transition. Thanks Jerry! After all that futzing around, I was out in 1:50.
The Bike:
The bike was the big "if" of the race. I haven't been putting in the miles, and even though I knew this was just a 40K, it's still something that should be trained for. I had talked to the ART doc on Wednesday asking for his blessing, and he specifically mentioned that I should be careful not to pull up with my left leg. I was on track for my calculated sub 3 splits after the swim and T1, and I spent most of the bike trying to baby my leg but pushing hard enough to keep at least a 17 mph average, what I knew I'd have to pull on the bike in order to even be close to 3. I got passed by a couple of guys initially but I did pass one woman and a few guys later on. Otherwise we were pretty spread out. The roads on the bike were a little rough in spots, but overall the course was beautiful. It was a gorgeous summer/fall day, and it felt great to be on my bike. My average slowly crept up, and by the end, I finished the bike in 1:24:40, a 17.5 mph average, and another PR by over a minute. I know that had I been better trained, I could have been WAY faster here, but I was just happy to eek out what I did.
T2:
I hopped off my bike, and my groin was SUPER stiff. My normal hustle to the rack was quickly reduced to a walk in an attempt to stretch out my leg enough to actually muster up something for the run. To my relief, it started loosening up pretty quickly. Coming in on the bike, I really had to pee, and for a couple of seconds, I thought I'd be able to pee
on
the bike, but I just couldn't relax enough. I was in and out of T2 in 1:59 with a port a potty stop.
The Run:
Truth time. Had I really screwed something up in my groin or would I be OK? The first couple of steps on the run felt pretty stiff, but I was able to loosen up a little bit. I took a gel right off the bat and focused on a relaxed upper body and a shorter but quicker stride (long strides tend to irritate the injury). To my astonishment, the mile 1 marker showed up really quickly. I looked down at my watch and saw 8:54. I was hoping to hold onto that. It would easily secure a sub 3 hour race. Starting the run, I was excited that it was
only
a 10K. After 3 half iron distance races this year, somehow 6.2 miles seemed short! I didn't have enough room on my watch for all of my run splits, so I took them every 2 miles. I hit mile 2 in 17:04 which meant that either I was picking up speed really fast or the mile marker was short. Miles 3 and 4 took me 18:49, so I'm guessing the markers were a little off. I got really direction turned between miles 3 and 4. It was a pseudo out and back with a bit of winding around in the middle. I was so confused for a second that I was questioning the run distance we were covering! I was still feeling strong at that point. My weekly tempo runs with Matt have gotten me used to running with side stitches and out of my comfort zone, so I just pretended that I was running with him! I kept trying to pick up the pace knowing that barring no major catastrophes, sub 3 was on its way. As I hit the 400 mark, I could hear footsteps. Someone was gaining on me. Drat. I had been passing people here and there, but nobody had passed me since the first 1/4 mile of the run. I wasn't about to let it start just before the finish. When the guy finally caught up to me, I saw that it was one of the guys I had passed and chatted with a little before mile 1. He thanked me then told me I had a great pace and that I had been his rabbit all day. I had a little gas in the tank, so I picked it up and pulled him in.
Booking it in at the finish - you can see the guy chasing
me's
elbow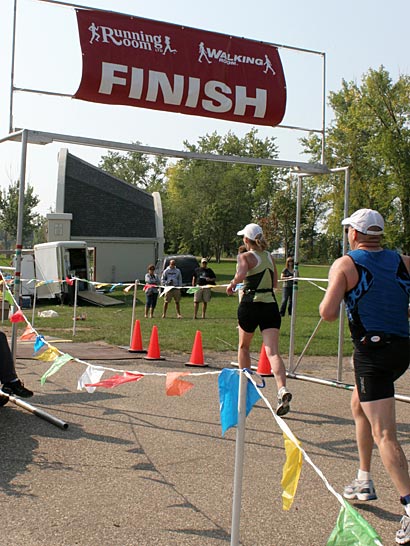 I finished those last 2.2 miles in 17:29
I averaged just under 8:37/mile for the 10K, which is a huge improvement over my last
oly
run. Total time was 2:56:04, over 10
minutes
faster than my previous PR. Never being fully satisfied, I can't help but wonder how much better I could have done had I been totally healthy, but I guess this just means I'll have room for improvement on my next one! It's a little disappointing to see that I still came in 9/10 in my age group, but 7 of the top 10 women were in my age group, and I can't argue with improvement.
Overall, this was a super low-key, well-run race. I would totally recommend it. Steve and I had a blast, and he even came in 2
nd
in his age group.
If the groin holds up, I may do a local 20 mile road race next weekend. I'll keep you posted!