So I finally got a few minutes to sit down and write up my experiences at the Gear West Duathlon a couple of weeks ago. The race was actually on May 23, but then it was full speed ahead for my sister's wedding on the 29th.
I went in to the weekend really excited to finally be able to do the race myself but also realizing that this was not an "A" race. It was a "train straight through to the race" kind of week so that I would be better prepared for this coming weekend's Liberty half iron distance tri. Knowing this, I ran an easy 10 miler with my friend Maddy the day before the du. I was hoping that it wouldn't ruin my race, but I knew it would help my endurance for my half.
I have watched Steve and my brother Matt tag-team this race for the last couple of years, and the timing finally worked out so that I could do it too. From Steve's and Matt's past descriptions, I knew what I was up against - a hilly cross-country 5 K run followed by a hilly 28 K bike and another cross-country 4 K run. The course is known for being pretty brutal, and the competition there is fierce. It's not necessarily a race for beginners. Nevertheless, my good friend Jess had picked this race as her first. I had warned her in advance what to expect, and she showed up trained and ready to go.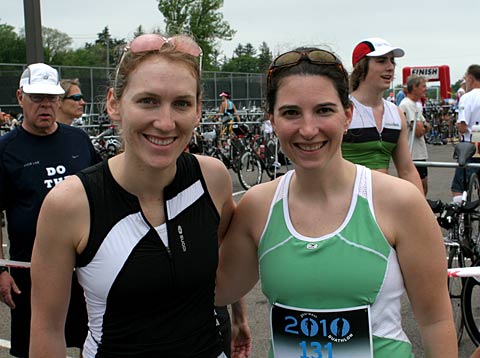 Steve, Matt, and I arrived soon after transition opened up. We wanted to get some good spots, and we wanted to be have time to chat with all of the people we knew who would be racing. Jess showed up around the same time, and she and I set our stuff up next to each other. We went over how to lay your stuff out and how to pick a good spot in transition. Then we picked out landmarks that would help us find our stuff on the first run in and on the bike in (coming from 2 separate corners of transition).
We were in wave 4, so we got to watch the elite men, the elite women, the teams, and a few others start before us. Before we knew it, we were off!
The 1st Run:
I tried to settle into a good, hard pace. The first 1K was on asphalt, but the rest of the winding, hilly course was a mixture of grass, dirt, gravel, a little more asphalt, and wood chips. I remember thinking 2/3 into the first run that it really wasn't as bad as I thought it was going to be. I guess part of me was picturing the terrain from my 50K last fall - rocks, ruts, roots, and gravel. This run was much more normal. Don't get me wrong - it was still tough, and that bear of a hill at the end seems to go up forever! There were no mile markers on this course, so I was just going on feel. I came into T1 with a 26:49 5K (an 8:56 average) - right around where I should have been for that run.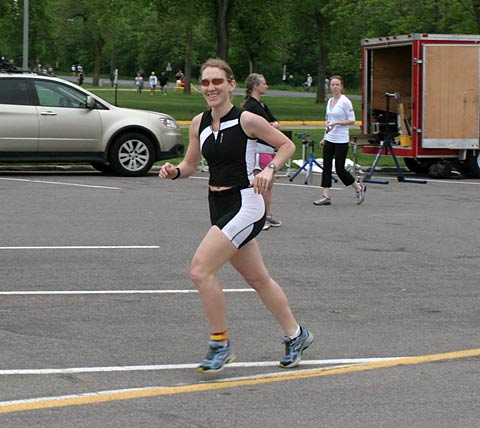 T1:
In T1, I took off my socks, slid into my bike shoes, and I was out in 1:11. I know that messing around with my socks is not an efficient use of my time, but during a tri, I won't have to be taking them off and putting them on. I prefer to bike without them, and my feet turn to hamburger if I run without them, so off and on it is. I used the talc in my bike shoes this time around, and it worked SO much better.
The Bike:
I am not a strong biker. I never have been, but I knew that a 17 or so mile bike was going to be my shortest race distance for the rest of the year. I really wanted to break 18 MPH in race at Cannon a few weeks ago, but that nasty wind threw my plans out the window. So... goal of 18 for this bike it was. The bike course is hilly, but they are usable hills, and I've gotten a lot better at downhills in the last few years. I got passed by quite a few guys from the wave behind me, but there were only a couple of women who passed me on the bike. Overall, I probably did just as much passing as getting passed. I realized a few miles into the ride that my computer hadn't cleared properly when I reset it that morning, so my average and distance were both off. I reset it and just kept pushing. My run is in decent shape right now, and I was trying not to hold out out on the bike. I drank some NUUN/Carbo pro mixture and took in the scenery. The course is just beautiful out there, and Liberty shares parts of it, so I was taking notes. It wasn't long before we were heading back into town. I finished the hilly bike in a time of 54:49 (18.6 mph average). I met my goal!
T2:
I donned a new pair of socks, slipped on my running shoes, and booked it out of transition in 1:15. I felt great. Twenty feet or so after exiting transition, I heard, "Go Sarah!!" Steve had nearly missed me :) I guess it's a sign of a good race if your support group isn't really even looking for you to come in yet.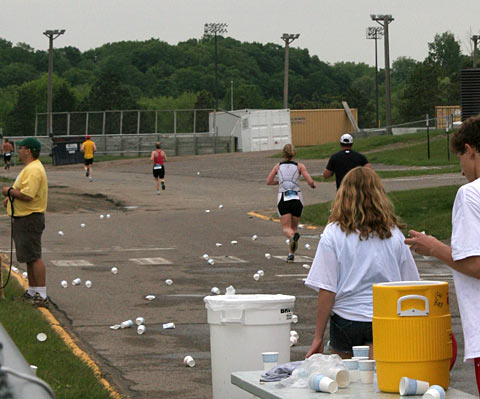 The 2nd Run:
There was a woman in a coral colored top that had passed me near the end of the bike. She was 50-100 feet in front of me coming out of T2, and I was gunning for her. I know I've mentioned this before, but my tempo runs with my brother have really taught me to run through a lot of pain. I was pushing hard. The second run is shorter than the first, but the part that they cut off is the flat asphalt part, so proportionally, it's harder. Slowly, I continued to gain on the woman in the coral top. I didn't know whether she was in my age group, but I knew I wanted to catch her. I was breathing really hard but feeling strong. All those feelings I'd had after the first run about it not being as bad as I'd expected disappeared. I was pushing, and it felt so much harder. The no mile markers threw me off a little, and every time I thought we were nearing the end, they'd send us back into the woods for more. I finally caught the woman in coral about a mile into the race. "You've been my rabbit through this whole run!" I told her. Then I whispered to her that we could both catch the woman in front of us, which we soon did. I had now passed both women and was determined not to let them catch me again. I fought my way up that final hill and kicked as hard as I could without looking back.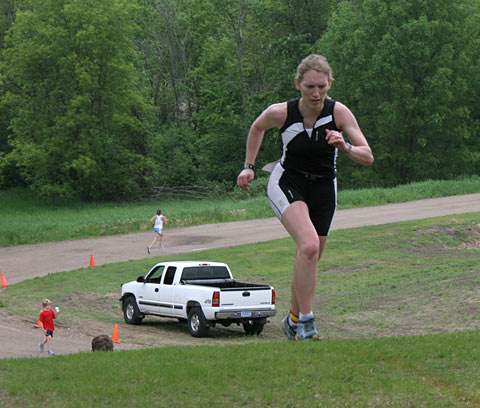 I held them both off for a time of 24:22 (9:12 avg for 4K). My final finishing time was 1:48:24. They took my chip. I looked behind me to see the woman in coral finishing. I thanked her for the push. We hugged and finally introduced ourselves. Her name is Julie.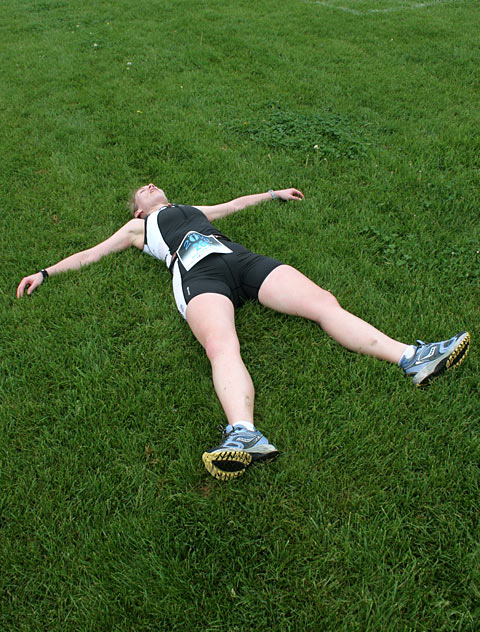 I passed out on the ground catching my breath while talking to Steve and Matt like this for the next 5 minutes. I was spent!
After catching my breath, I chatted with Jumper and several other locals before walking to the top of the hill and waiting for Jess. It was only a minute later that I saw her emerging from the bushes, and I got a little emotional. She was about to finish her first multisport race! Jess powered up the hill and ran it in to the finish.
We hung out at the finish line enjoying some tasty food before packing up our stuff, watching the results and the drawing, and driving home for a well-deserved nap!
Final Stats:
Run 1: 26:49 248/380 overall, 61/134 women, 9/18 AG
T1: 1:11
Bike: 54:49 233/380 overall, 60/134 women, 7/18 AG
T2: 1:15
Run 2: 24:22 190/380 overall, 47/134 women, 8/18 AG
Final time: 1:48:29 218/380 overall, 51/134 women, 7/18 AG
Final Thoughts:
* I think all of the hill work I've been doing on the bike this spring is paying off. I felt good out there, and this was the first time I've ever done anything over 18 mph in a race.
* The woman in the coral top was in the age group above me. I was a little bummed to find this out at first. In overall time, she beat me by nearly 6 minutes. However, this means that she is significantly faster than me, and I still outkicked her on the second run. This realization made me happy :) I wasn't very excited about my time on the second run at first. Then I started looking at the numbers and realized that I did really well compared to much of the other field.
* The girl in the black top that I passed on the second run was in my AG. I beat her by 7 seconds. I'm realizing more and more that transition times really do matter. I couldn't have run any faster.
* I ran 10 miles the day before this race and didn't notice it at all in my legs. I'm hoping this is an indication of my overall fitness for my upcoming race.
* I ran this race in my trail shoes. I felt a little self-conscious at first. It seemed that everybody else was wearing racing flats or regular running shoes, but I was SO glad to have them for this race. The terrain was nasty at times. After the finish, a woman commented that she wished she would have had a pair out there!
* I am SO excited for Liberty in 5 days - first half of the year, 8th ever. Wish me luck!