Proud Sister
I'd like to interrupt this regularly scheduled triathlon blog post to talk a bit about a completely different sport – wrestling. My "little" (he wrestles 215) brother's team, the United South Central Rebels, is currently at the MN state meet, and I've caught wrestling fever!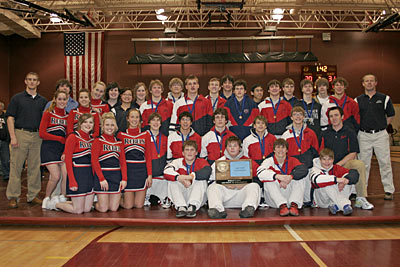 Our Team
I've always thought that there's something to be said about high school and D3 sports, where the tickets are cheap, you know most of the team, and the kids are there because they want to be; because they love the sport.
My high school alma mater beat their rivals by 1 point at the section meet, relying on a pin by our heavyweight. They're now at the state meet as the little team that few people have ever heard of. Although they made it last year too, they were a very young team and got a little "deer in the headlights syndrome." They got stomped.
Wednesday was our first meet. It didn't' start off on a good note. We were down 11-0 after our first 2 matches. Slowly but steadily, we caught up to them, and we ended up winning 39-20 thanks to 3 pins at the end. As a proud sister, I have to brag that
Mike's pin at 215 clinched the meet
. Our heavyweight just got to go out there and have some fun. The fact that he pinned his guy too was just an added bonus. I cheered so loud that I gave myself a headache!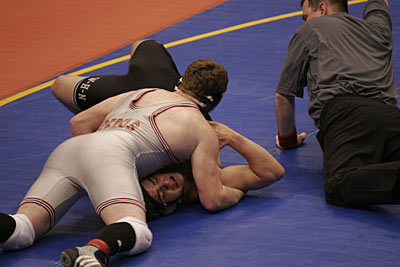 Mike with his winning pin
Yesterday our 5 individuals had their matches. Two of them got beat. Mike got beat, too, but since that guy went on to win his next match, Mike's back in it today. The other two guys won two matches apiece and will be in the semifinals tonight. Woo Hoo!
Tonight we'll have our work cut out for us. We're up against #2 rated Frazee (#1 rated Canby actually got bumped out in the first round). We're the definite underdogs, but since no one knows who we are, no one knows what we're capable of!