Let's Talk About Socks, Ba-by
So I've been a huge fan of
Smartwool
for years. I love to wear them around the house, and I've worn them for countless races. They seem to magically keep my feet warm in the winter and cool in the summer, and my tootsies feel dry even when they're soaked. I haven't bought new ones for a while, though, and mine are getting pretty worn. Now I've got a couple of new fun brands and thought I'd share them with you all.
The
Bridgdale

company
sent Steve a few trial pairs this spring. I wore them for all of my long runs this spring and for Grandma's marathon two weeks ago. I gave one of the 3 pairs to
Steph
when her feet started to look like bad hamburger after our long runs. She wore them for each of
her
long runs too, and she never got another blister, not even during the marathon. Steve snapped this pic when they first came in the mail: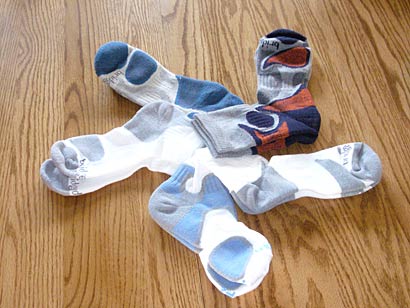 Mine are the three on the left. The top blue and grey pair is the one I gave to
Steph
.
Bridgedales
are different than
Smartwool
in that the extra padding is only in key areas. They are much lighter on the top and through the arch. It makes them less "around the house" socks than the
woolies
(which I wear on our hardwood floors in the winter). They may be my new favorites for performance though. My feet stay really comfortable on the bike or during a run. They're really cushy without being bulky, and I heart them! They come in all sorts of fun colors, different shapes and sizes for various activities, and even come foot specific in some of their models. Check 'em out.
Just a couple of days ago, we got my shipment of
Drymax
socks, just in time for a sticky Minnesota summer. When Steve got 2
nd
in the
Drymax
challenge this spring, the company sent him a huge box of socks and told him that there would be some coming for me too. How cool is that? I finally got rewarded for putting up with his craziness :)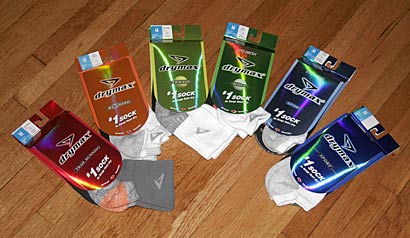 It's not the 42 pairs that Steve got, but it's probably a year's supply for me.

I'll let you know how they work out. I'm really excited to put them to my own tests!