Well, we're here. Today marks the 39 week mark. Officially, we have one week to go. Unofficially, we may have as long as 3 weeks to go, and my MD keeps reminding me of that. Everybody keeps telling me I look great at this point. I'm taking this as a sign that labor isn't coming anytime soon. In some ways, that's OK with me since I know that everything will change instantly when the kiddo gets here. On the other hand, I know that each additional week that goes by means another 1/2 pound worth of baby that I'm going to have to push out. Yesterday was my last scheduled day of work. With the way our department is set up, we don't have sick coverage, so I'm on projects until I officially leave. I'm hoping I don't need to be on projects for too long, but the flexable schedule will be good in the next couple of weeks. So since there are no real updates, here are a few quick stories highlighting what's been going on in our household:
* Steve and I have been tackling a few last minute small projects. Last weekend we did a lot of cleaning. This weekend will involve a few touchups. The BOB and car seat attachment are together and the house is stocked with groceries. Steve and I are spending a few hours today making a few backup birthday, anniversary, etc cards. I love being married to an art teacher. It gives me an excuse to have him help me!
* A woman who is interested in pharmacy shadowed me at work a couple of weeks ago. Interestingly enough, she's also training for IM Wisconsin, so she's been picking my brain on both accounts. When she saw the TYR cinch bag under my desk, she made a comment like, "Ooh, that's cute! You still bring a TYR bag with you to work!" A little confused, I replied that I was meeting a friend for a run around the lakes after work and my running clothes were in there. She kind of stumbled over her words and then just didn't say anything. It was hard for me not to feel a little offended by her comment and a little gratified by my ability to respond :)
* My neighbor asked me two nights ago if we are sure we're not having twins. She then found out we're due next weekend and replied that I look so good I make her a little sick. I think this is a complement?
* I was talking to my 70+ year old coworker in an elevator yesterday. We were discussing my recent newspaper article and how I'm still running. Another 70+ year old lady in the elevator commented that I shouldn't be running. Thankfully, my coworker told her that I was doing just fine. The other lady then went on to say that at 8 months pregnant, she went water skiing. How, exactly, is this safer?
*
Abbe
, my preggo running partner, and I are both signed up for the 5K tomorrow. It will be ON HER DUE DATE. I'm so happy to have found somebody as crazy as I am :) We figure if it doesn't send one or both of us into labor, at least it'll make for some good stories!
* Speaking of labor, as if I don't already talk about it enough lately, congrats to the
Cara
,
Kelly
, and
Jess
, who have all had their babies recently. I'm starting to feel like I may be finishing DFL in this race...
* And finally, here's a picture of the growing watermelon. I was a little nervous to post a pic with SO much skin, but I guess I've shown more when I've posted swim suit pics, so here it goes: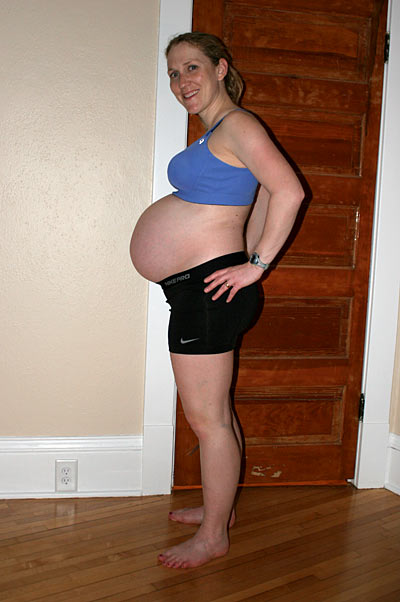 I'm not sure how much more I can stretch...
Race report coming soon!