First of all, thanks everyone for your kind words and congratulations. As you probably all know by now (especially if you read Steve's blog), Henry was born one week ago today. After feeling like he'd NEVER come, we have had quite the week welcoming him into our lives. I love him more and more each day. Though I'm definitely still tired and sore, I'm looking forward to getting out of the house more this next week. Steve and I went for a 45 minute walk with him on Friday. It felt SO good to just get moving and actually see sunlight, even though I was a little pooped at the end.
I thought I had a boy baking in the oven since the moment I found out I was pregnant, so I think it's pretty funny that that's how he came out. In retrospect, I'm glad he was a "surprise."
I have found it really interesting and helpful to read other people's stories regarding the birth of their children in the past. It always amazes me how very different people's experiences are. If you don't want to read a long, potentially TMI story, come back later and just skip this post :)
Something told me before my run on June 10 that it could be my last for a while. Call it instinct or just knowing that the timing was getting close, but it was in fact my last run with baby Henry in my belly...
My water broke at 11 PM Friday night. At first, I didn't even think that's what happened. He was kicking all over the place, and suddenly I felt a very small "pop" and a little gush of fluid. I jumped out of bed and told Steve my water broke. I went to the bathroom and decided that all of that baby twitching must have just caused me to lose bladder control, even though that had never happened to me. I sheepishly informed him it was a false alarm. Then at around 2 AM, I lost another small amount of fluid and started to think that maybe it had broken after all. I tried not to wake Steve. I called into the hospital, and they said that since I wasn't having much in the way of contractions, I should give it an hour or 3 before coming in.
I woke Steve up a little after 3 so we could get a few things lined up in case this was the real deal. We got to the hospital around 5:30. By then, I still wasn't sure my water had broken at all. When they did the exam, they were just as confused as me and wanted to keep me a few more hours for observation. As we sat in the triage unit, a physician and a nurse both came in to inform us that even if my water hadn't broken, we wouldn't be going home. Henry had an episode of bradycardia (low heart rate) that was significant enough to worry them that he was in distress. At 8 AM, they repeated the exam but found that it most definitely HAD broken, so now we were on a time frame. Usually they'll only let you go 24 hours after it breaks. Since I really wasn't dilated at all (I was at a 1 and 50% effaced - women walk around for WEEKS more progressed than that) and was not having a lot of contractions, they started me on pitocin, which Henry it seems did not like. He had a two more episodes of his heart rate dropping to the point of doctors and nurses rushing into my room and doing all sorts of interventions to make it come back up. At 2 PM, my MD told me that he had broken her 3 strikes rule and I would probably need a C section. They decided to see what my body could do on it's own and gave me a 7 PM deadline to "make progress". I tried all sorts of different positions, walking, etc. Just before 7, my contractions were 2 minutes apart lasting about a minute each.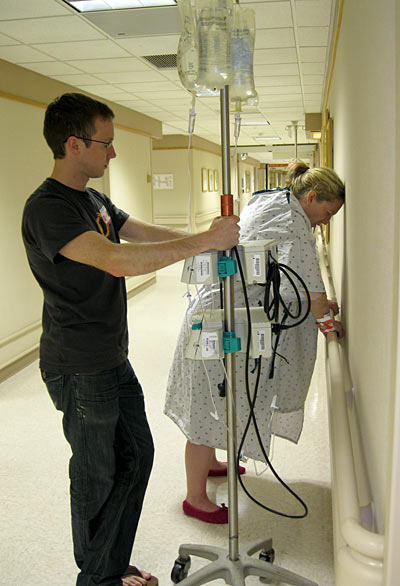 Stopping for a contraction
I was getting pretty pooped by then. When they checked me at 7, they said I had made significant progress. I was now dilated to 2 and much more effaced. After all of that work, I didn't feel like that was much to brag about. They gave me an 11 PM deadline and some Nubain, which made me feel a little drugged but let me get a little rest between the contractions. At 11, I was dilated to a 3, and they were OK with that progress. At that point, I had been "in labor" (sort of) nearly 24 hours and had been awake for 40+ hours save three brief hours Fri night.
I had hoped to be as drug-free as possible throughout labor, but it was decision time. I decided to get an epidural, try to sleep a little, and see if numbing me would help my body stop fighting the pain and actually let me make progress. I had spent the last 9 months using all sorts of muscles to keep him supported during my runs and throughout the rest of my day. They were working against me. In the back of my mind, I knew I'd need either an epidural, spinal anesthesia, or (if he had a REALLY scary bradycardia episode) general anesthesia for a C section anyway. It was the best decision I made. I slept off and on for 5 hours, and when the checked me at 5 AM, I was dilated to a 7. I have no doubt in my mind that without the epidural, it wouldn't have happened. By 6:45 Sunday morning, I was fully dilated, but he was still pretty high up and they wanted to see if he'd come down with the contractions without me having to push him down. We started pushing at 7:45. He hadn't come down much on his own, so I had to push him down. At first, the pushing was actually pretty easy. My contractions were pretty sporadic - sometimes 10 minutes apart, sometimes 2. I was so relieved that I wasn't heading to a C section for the moment that I was actually joking around (I am very sure the epidural helped).
They say that one disadvantage of having an epidural is that you can't push effectively, but I could still tell when a contraction was coming, and they kept telling me how great my pushes were. We had one more REALLY scary bradycardic spell that lasted several minutes where they called in extra nurses and the NICU team, but we got him recovered. I was SO hot in there. Even though I was wearing nothing but a sports bra, Steve was putting icy wash cloths ALL over me. The room wasn't warm, but I was WORKING. I never thought that I couldn't keep going. I knew I had to. I was just so worried that Henry would have another scary episode. At the end, they kept asking if I wanted to feel his head, but I just wanted to focus on recovering between contractions so that I would have enough energy to keep up effective pushing. I pushed for 3.5 hours total, but eventually, he was out! Steve got to announce that we had a boy. They plopped him on my chest, and I felt something splash me in the face. I didn't think much of it until later when they explained that when Steve cut the umbilical cord, blood flew EVERYWHERE. He even covered the walls with it.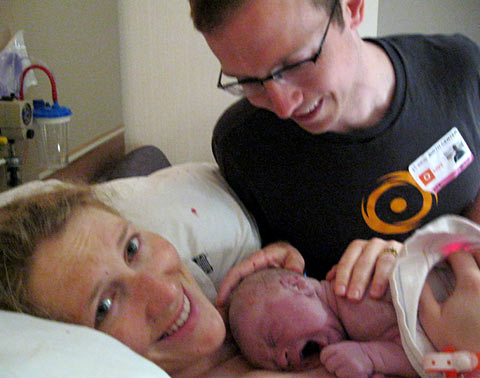 Our family right after his birth. You can see blood on my face and on the pillow...
Henry was 7 pounds, 6.2 ounces, and 20 inches long. Oh, and we think he's pretty cute :)
I held Henry in my arms for a long time and knew I'd never be the same.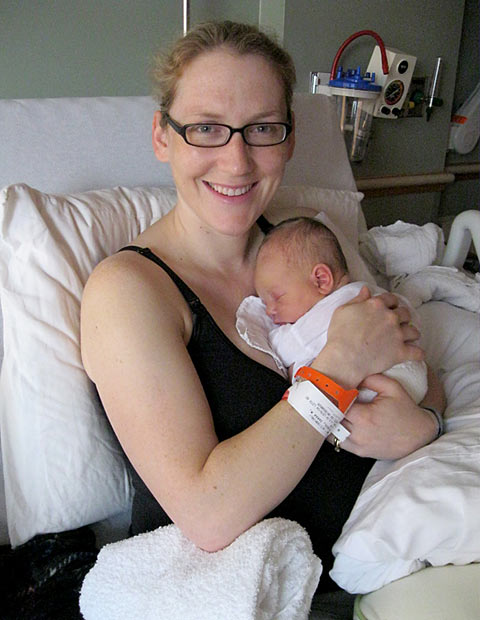 The day we were discharged from the hospital
Steve was AMAZING throughout the whole process. I couldn't ask for a better daddy for our son. Happy Father's Day, Honey!
We were also very fortunate to have my mom in the delivery room with us. She's an OB nurse by trade, and having her love, support, and expertise there was SO helpful, especially during some of the scary episodes. We love you, Mom (Grandma)!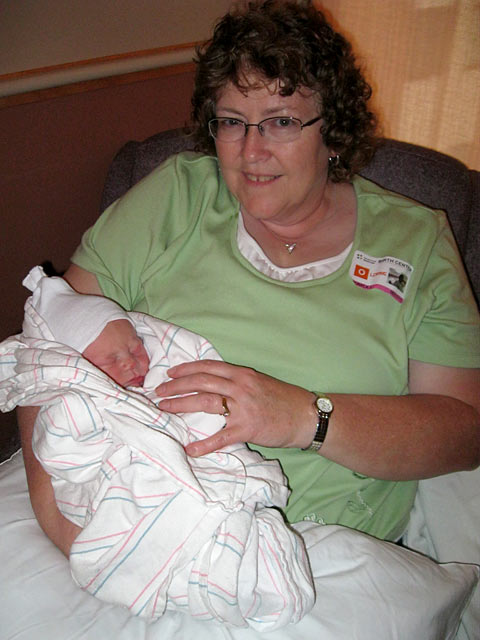 My AWESOME Mom
We got to bring Henry home Tuesday evening. The Script's "For the First Time" played on the radio:
Even after all these years we just now got the feeling that we're meeting for the first time.
I welled up for the zillionth time of the week.
The rest of the week has been a roller-coaster of emotions, mostly happy, although breastfeeding is SO not fun right now, and that has caused a few sad/pained tears. Everyone reassures me it does get better. In the meantime, this keeps me motivated: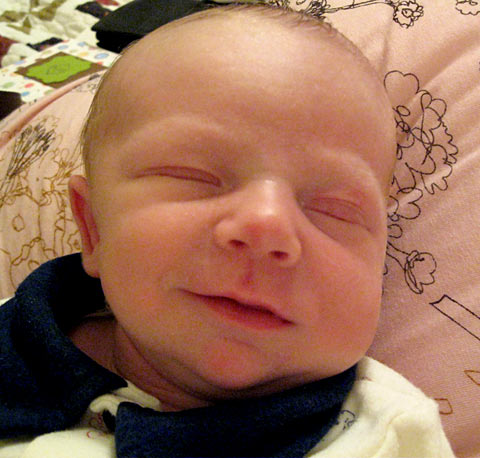 We think we'll keep him :)