A Few of My Favorite Things, Part 2

I've hinted on my last couple of posts that I had another thing to add to this list. Everyone, meet Tony.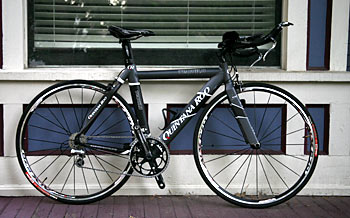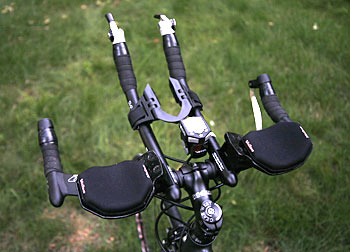 If I had to give my road bike a name, her name would be Louise (no offense to anyone out there named Louise). It just seems to fit her. She as an OK personality. She's a little on the heavy side, but she's very pretty. I don't know that I would really say we're friends. We're more like business partners. We just work together to get the job done. It seems like most of the time, I am doing most of the work.

Last Saturday, I met Tony. His full name is Tony Tequilo (as in Quintana Roo). I never meant for us to meet. I went into the tri store to buy some Enduralytes, and there he was. I don't know why I was compelled to name him Tony, but for some reason, I picture him as a person with a heavy Brooklyn accent and a strong Italian background. He's not big and rugged, but he is handsome, and I'm pretty sure he's tough as nails.

I should probably back up. Last spring, Steve won the grand prize drawing at a local duathlon. It was a Quintana Roo Kilo. Because he is an awesome husband, he had just gotten a new bike this year, and I was planning on doing IM MOO with my road bike, he decided that I should have it. Can you believe it?!? I'm pretty sure he's the best husband in the world. On Memorial day we went to the tri store to redeem the coupon. Unfortunately, the company had all of their Kilos on backorder. They told me I could upgrade to the Tequilo and pay the difference. Then they told me that the Tequilos were on backorder too. At that time, they said that they were told that the bikes would be in in August. They didn't know if it would be early August or late August (which obviously makes a difference when you're talking about training with the thing). I have been calling every few weeks, and the update has been the same: we don't know when the bikes will be in. We haven't heard anything. I called about 1 1/2 weeks ago, and the guy told me that we likely would have to wait till next year and get the 07 Kilo. I was bummed but had already come to the realization that I would likely be riding my road bike in Sept.

Imagine my surprise when I saw a Tequilo in my size at the bike store. I guess they had just gotten it in, but they probably won't be getting any Kilos in yet this year. I called Steve, and he said not to come home without the bike.

So... he is now mine. I'm pretty sure that I will be riding him in just 2 short weeks. I have taken him out on a few rides, and I've gotten the shifting down. The clipping in and out is the same, so I don't have to relearn that part. He still doesn't fit perfectly, and that will be my goal this week. I will hopefully be talking to the amazing guy who fit me to my road bike very soon.

I'm still a little nervous about making this switch so late in the season. I have done most of my training on my road bike, my road bike has more gears (27 vs 20), and riding my road bike has become second nature. On the other hand, Tony is lighter, hopefully faster (once he fits a little better) and has a seat angle that will should better prepare me for the run. He's also easier to shift mutliple gears at a time on the hills. At this point, I'm still not exactly sure what I am going to do. I'm going to throw in a hill ride or two this week (short of course) to see how he handles on the hills. This past week, I was just trying to get the feel of riding him. I took him for my 60 miler yesterday, and we did OK. My legs felt great on my 6 mile run, but I'm not sure whether that was because this distance was significantly shorter than my recent rides or if it was because the bike was easier on them.

Both people I've talked to in the local bike shop seem to think that I should be OK after 3 weeks of riding him. Any thoughts?